CSUN's Master of Social Work Program Scores Another Top Ranking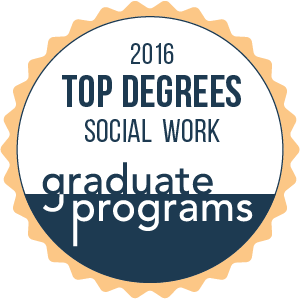 California State University, Northridge was ranked 13th in graduateprograms.com's list of the top 50 schools in the nation for graduate programs in social work.
The rating was based on submitted feedback from thousands of students who studied the major at the evaluated institution, as well as data from the National Center for Education Statistics. Assessed categories were campus safety, career advising, quality of instruction, student diversity, networking opportunities, student financial services and satisfaction with degree.
In particular, supportive faculty and extended hands-on opportunities in both the online cohort and the on-campus cohort were praised in the students' feedback.
"The CSUN MSW program partners with numerous human services agencies in the communities where we place our students," said Amy Levin, professor and department chair of the Master of Social Work program. "In this field education milieu, MSW students get to know the local community, and members of the local community get to see our MSW students in action."
Initially, the campus-based program focused on serving struggling communities within the San Fernando Valley. Today, the program includes satellite campuses at College of the Canyons and Ventura College, as well as a global online program, supporting vulnerable communities across the United States and even internationally.
"I'm extremely proud that the Department of Social Work continues to earn such high marks from academia and alumni," said Stella Theodoulou, dean of the College of Social and Behavioral Sciences. "This latest ranking is a reflection of the high quality of our program, students and faculty, is further evidence of CSUN's importance as a provider of graduate education, and demonstrates the institution's commitment to serving the region in areas that are critical to the success of California as a state."