Former Hawaii Governor, Community Leaders to Address CSUN's Class of 2013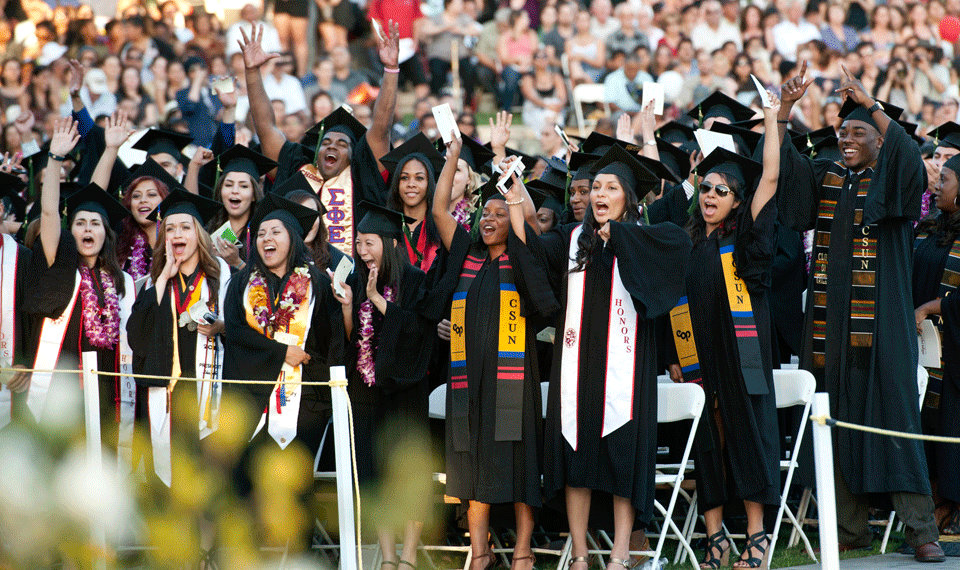 Commencement 2012. Photo by Lee Choo
The former governor of Hawaii, a software engineer, a bank president and a community activist and organizer are among the dignitaries who will address California State University, Northridge students when they graduate later this month.
An estimated 9,944 students—about 7,735 bachelor's, 2,190 master's and 19 doctoral degree candidates in a total of 63 disciplines—are eligible to take part in the ceremonies scheduled to begin the evening of Monday, May 20, with the university's Honors Convocation.
"This year's commencement ceremonies are my first as CSUN's president, so I am looking forward to the opportunity to join with the students and their families and friends in celebrating what is always a momentous and joyful occasion," said CSUN President Dianne F. Harrison. "All year, I have enjoyed meeting students and learning about their outstanding work in the classroom and in the community. The Honors Convocation and commencement ceremonies will give me a formal setting to honor our students' accomplishments."
The graduation celebration begins at 6 p.m. with the Honors Convocation on the lawn in front of the Delmar T. Oviatt Library located in the heart of the campus at 18111 Nordhoff St. in Northridge. About 2,201 graduating students have been invited to participate.
This year's convocation speaker is CSUN alumna Linda Lingle, who served as governor of Hawaii from 2002 to 2010. Lingle, who earned a bachelor's degree in journalism from CSUN in 1975, was the sixth elected governor of Hawaii and the first woman to hold that position. She first served the people of Hawaii in 1980 as a member of the Maui County Council, and went on to complete five two-year terms, three representing the island of Molokai. In 1990, she was elected mayor of Maui County and served two full four-year terms. Lingle co-chaired CSUN's Special Task Force on Engagement. In 2004, she received the university's Distinguished Alumni Award.
The commencement ceremonies are as follows:
• Students in the Mike Curb College of Arts, Media, and Communication will celebrate their graduation at 8 a.m. on Tuesday, May 21, on the lawn in front of the Oviatt Library.
• The College of Science and Mathematics' graduation ceremony is scheduled to begin at 3:30 p.m. on Tuesday, May 21, on the lawn south of Manzanita Hall near the southwest corner of the campus near Nordhoff Street east of Etiwanda Avenue.
• The College of Health and Human Development will celebrate its students' graduation at 6:30 p.m. on Tuesday, May 21, on the Oviatt Library lawn.
• The College of Social and Behavioral Sciences' graduation ceremony is scheduled to begin at 8 a.m. on Wednesday, May 22, on the Oviatt Library lawn.
• Electrical engineering and engineering management alumnus Kunal Chitre will address the graduates during the College of Engineering and Computer Science's ceremony, which will take place at 3:30 p.m. on Wednesday, May 22, on the Manzanita Hall lawn.
Kunal earned his master's in Electrical Engineering in 2005 and his master's in Engineering Management in 2009 from CSU Northridge. He currently works as a Software Engineer at Digital Energy, Inc., a premier energy consulting and software engineering firm located in Thousand Oaks, CA. Over the past 10 years, Kunal has worked on numerous public and private sector projects spanning across energy, higher education, facilities management and technology industries.
An honorary doctor of science degree will be bestowed on Asad M. Madni, former president, chief operating officer and chief technology officer of BEI Technologies, Inc., during the ceremony. Madni, who has close ties with the university, led the development and commercialization of intelligent microsensors and systems for aerospace, military, commercial and transportation industries, including the Extremely Slow Motion Servo Control System for the Hubble Space Telescope's Star Selector System which provided the Hubble with unprecedented accuracy and stability, resulting in truly remarkable images that have enhanced our understanding of the universe; and the revolutionary MEMS GyroChip® technology which is used worldwide for Electronic Stability Control and Rollover Protection in passenger vehicles, thereby saving millions of lives every year.
• Community activist and organizer Chanchanit Martorell, executive director of the Thai Community Development Center, will give the commencement address during the ceremony for the College of Humanities, which begins at 6:30 p.m. on Wednesday, May 22, on the Oviatt Library lawn.
Martorell founded the Thai Community Development Center in 1994 in an effort to improve the lives of Thai immigrants through services that promote cultural adjustment and economic self-sufficiency. She is known for her work on human rights cases involving Thai victims of human trafficking. She is also a leading community development practitioner engaged in affordable housing development, small business promotion and neighborhood revitalization projects. Under her leadership, the development center played a pivotal role in the designation of the first Thai Town in the nation in East Hollywood.
• Bank president and CSUN alumnus David P. Malone will address the graduates of the College of Business and Economics during its ceremony at 8 a.m. on Thursday, May 23, on the Oviatt Library lawn.
Malone, who graduated from CSUN in 1981 with a bachelor's degree in accounting, is president, chief executive officer and member of the board of directors of Community Bank in Pasadena. He has more than 25 years of management experience in commercial banking and business consulting/financial markets. He serves on the advisory board to CSUN's business college.
• The Michael D. Eisner College of Education's ceremony is scheduled to take place at 6:30 p.m. on Thursday, May 23, on the Oviatt Library lawn.