Graduates to Receive Special Recognition at CSUN's Honors Convocation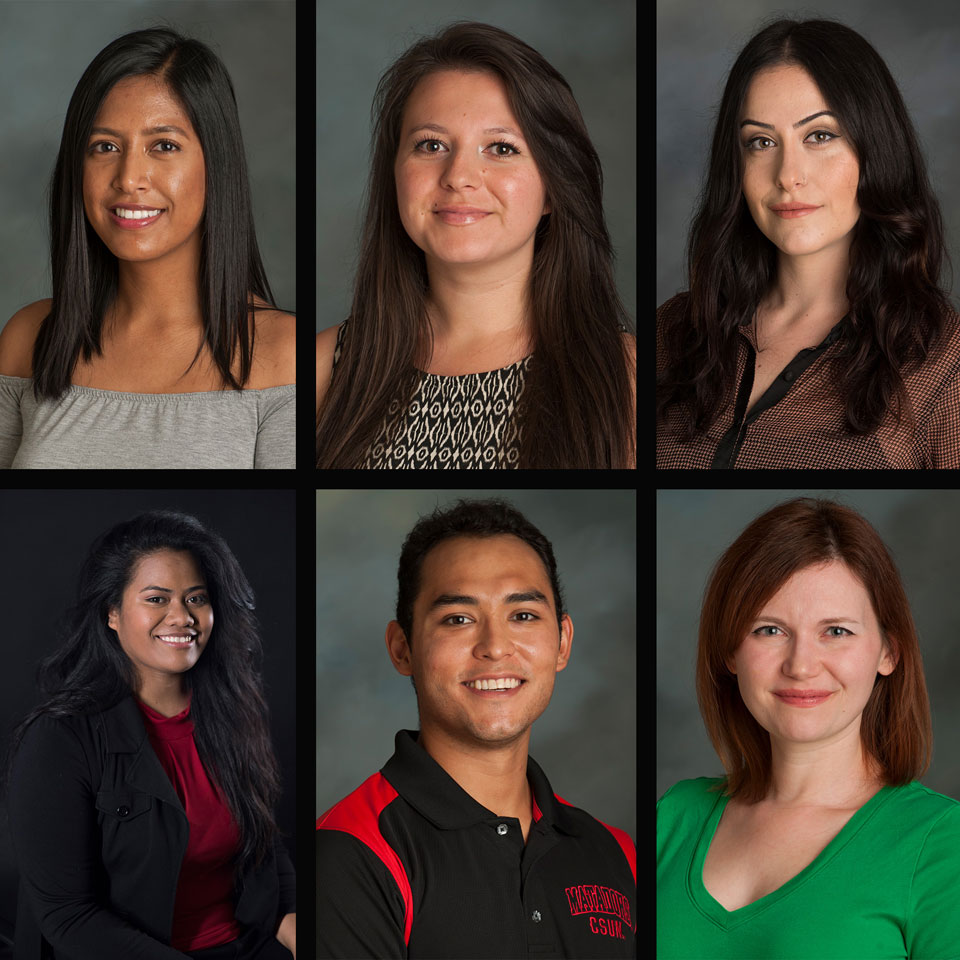 Of the approximately 2,100 graduates invited to take part in California State University, Northridge's Honors Convocation on Saturday, May 13, six individuals will be singled out for special recognition as outstanding graduating students.
Among those to be recognized will be Angelina Finau, this year's Wolfson Scholar, the top award given to a graduating senior. It is presented each year in memory of CSUN's first vice president, Leo Wolfson. Not only must the student have an exceptional academic record, but he or she must also have made significant contributions to CSUN or to the community through co-curricular and extracurricular activities.
"I'm still processing the fact that I'm getting this amazing honor," said Finau, 21, of Van Nuys, who will receive her bachelor's degree in political science in two weeks. "I can't believe that this girl whose family comes from these little islands in the Pacific, Tonga, that nobody has ever heard of — I'm nobody special — is getting this award."
Finau gets teary-eyed when she thinks about her time at the university, and the opportunities it has presented her. She has helped find ways to improve the university's graduation rates while working in CSUN's Office of Student Success Innovations; researched water conservation habits of Los Angeles renters; explored ways to improve the performance of students in general education classes; appeared as the lead witch in a production of "Macbeth;" and spent a semester in Washington, D.C., where she got to shake hands with former President Barack Obama as CSUN's Panetta Congressional Intern.
In addition to all of that, she has maintained a 3.9 GPA and volunteers as a student judge and coach for her former high school's speech and debate team, and at New Horizons, a nonprofit that works with persons with disabilities.
"I've gotten to do so many things, I have been so blessed," Finau said. "I remember being in Washington, D.C., on the steps [of the Lincoln Memorial] and thinking, 'How is this possible for a girl from a little island that nobody has heard of?' It was because of CSUN. If you have that burning desire to do something, it's possible, but you've got to seize the opportunities, and you have to have people to believe in you. The people here at CSUN believed in me."
Finau, whose parents emigrated from Tonga in the 1980s, said she also found support from her family — in particular, her older sister, who has disabilities.
"She reminds me what it means to be kind, even when you're really stressed out," she said. "And she reminds me that, even if it is my worst day, I am doing something positive for the community."
Finau said her time as a Panetta intern in the fall of 2015 helped her focus on what she wants to do with her life.
"What I learned was that no matter what talents you have, it is your civic duty to give back and change as many lives a possible," she said.
To that end, Finau plans to attend graduate school in the fall, "because knowledge gives you the power and increases the resources you have to make a difference in people's lives," and eventually go to law school, she said.
Finau will be taking part in the commencement ceremony at 6 p.m. on Sunday, May 21, on the lawn in front of the Delmar T. Oviatt Library, located in the heart of the CSUN campus at 18111 Nordhoff St. in Northridge.  (CSUN's 2017 commencement ceremonies can be watch live online at www.youtube.com/CalStateNorthridge.)
CSUN's Honors Convocation is taking place in the same location at 6 p.m. on May 13. The other students being honored at the Honors Convocation are:
Maria Akopyan, 2017 Nathan O. Freedman Memorial Award for Outstanding Graduate Student
Maria Akopyan was finishing her first year of graduate school when she received an award from the Association of Retired Faculty. While attending an event celebrating this achievement, she saw the announcement of the 2015 Nathan O. Freedman Award, given annually to the top graduate student during CSUN's Honors Convocation. She filed that away, intending to apply when she was close to completing her own graduate work.
After three years of research in evolutionary biology – specifically the courtship behavior and evolution of color and genetic variation in red-eyed treefrogs –  and a perfect 4.0 GPA, Akopyan is the 2017 Nathan O. Freedman Awardee, with a spot in Cornell University's Ph.D. program waiting for her in the fall. She has received 14 scholarships or awards in her academic career, including the 2017 Mack I. Johnson Memorial Research Award for Outstanding Graduate Student.
It's been a remarkable journey for Akopyan, whose parents, Robert and Seda, immigrated to the United States from Armenia in the late 1980s. She is a first-generation college student who has had to forge her own path, fueled by an appetite to conduct research and a drive that "comes from this immense sense of gratitude that I have for my family, and the sacrifices they've made," she said.
"I don't lose sight of that," she continued. "Having that in the back of my mind, I can't see any other way of living other than working really hard and making them proud."
Akopyan credits the CSUN community, in particular her master's adviser, biology professor Jeanne Robertson, for giving her the foundation to succeed. She was put in charge of a research team that included two undergraduate students, something she hardly saw during her undergraduate years at UCLA.
"[Robertson] was really adamant about fostering a relationship where I could benefit from having undergrads help me and they could benefit from the research experience," Akopyan said. "It's something that's very special about CSUN."
Akopyan said she chose Cornell to continue for her doctoral studies largely because its collaborative environment matched that of CSUN's. She added, "it really takes a village to do research."
She said it's heartening to look back and see how far she has come in three years.
"I wouldn't even recognize myself if I could go back in time," Akopyan said. "It's still really surreal. I feel like someone is going to wake me up and say, 'just kidding you're really not going to Cornell.' I could not have done it without the amazing community here."
Akopyan will be taking part in the commencement ceremony at 8 a.m. on Monday, May 22, on the lawn in front of the Oviatt Library.
Braulio Diaz, Outstanding Graduating Senior
While a student at William Howard Taft Charter High School in Woodland Hills, Braulio Diaz came across astronomer Carl Sagan's reflection on the "Pale Blue Dot" — a photograph taken by the Voyager 1 space probe that shows Earth as a tiny speck from billions of miles away.
Diaz, a computer engineering major with visions of working in aerospace, said Sagan's words piqued his interest in space exploration. But Sagan's larger message on humanity, and how the Earth is our home and we need to take care of each other resonated with Diaz.
"That whole speech really touched me, and that's the way we should live — respect everybody for who they are and live in harmony," Diaz said.
Diaz was born in Guanajuato, Mexico, and came to the United States as a 1-year-old with undocumented status. He is a recipient of a CSUN Dreamers Scholarship, which gives undocumented students — who are not eligible for federal financial aid — the funds they need for a college education. He said he wants to be an inspiration for fellow undocumented students who have a lot to offer schools, communities and society.
Since the day he set foot on the campus as a student, Diaz has been committed to making the most of his experience at the university and taking care of others.
As a freshman, he became a University Ambassador and gave tours to prospective students and their families in English and Spanish. For three years, he served as a Student Housing resident assistant and was promoted in his fourth year to serve as the community center manager. He was elected by his peers to represent CSUN's College of Engineering and Computer Science as a senator with Associated Students. Diaz also represented CSUN at the Hispanic Association of Colleges and Universities annual conference in Denver in 2014 and was nominated for Resident Assistant of the Year, two years in a row.
"I wanted to be involved," Diaz said. "I didn't want my experience just to be going to class and then going home. I wanted to develop relationships with people and give back, be an active member of CSUN. And it helped develop my love for CSUN."
Diaz will be taking part in the commencement ceremony at 8 a.m. on Monday, May 22, on the lawn in front of the Oviatt Library.
Kimberly Madhwani, Outstanding Graduating Senior
For Kimberly Madhwani, the college experience is only halfway over. The biochemistry major will be attending the University of Wisconsin, Madison in the fall and will spend the next five years working on a doctorate in neuroscience and genetics.
Madhwani attended CSUN with plans of going to pharmacy school, but everything changed when she joined the Research Initiative for Scientific Enhancement (RISE) program.
"Doors opened as a result of coming to CSUN, and I haven't regretted any of the decisions I have made since I came here," Madhwani said.
Even as a Presidential Scholar, Associated Students senator, leadership member of the CSUN Women and Science Club, and re-establishing member of the Chemistry and Biochemistry Club, Madhwani has kept strong grades and even had time to publish and present her research to the American Society of Biochemistry and Molecular Biology and at the Society for the Advancement of Chicanos/Hispanics and Native Americans in Science. She also completed two summer research internships at the University of Miami and the University of California, San Francisco.
Madhwani's parents also pursued careers in science — her father was a chemist in India, and her mother was a nurse in the Philippines before they moved to the United States and took jobs in other career fields. Madhwani and her younger brother, who also is attending CSUN, are continuing the family's love of science.
"[My parents] are both hard workers, and I carry on that with my work ethic in science," she said.
Madhwani is thankful for her time at CSUN and the people who encouraged her along the way. She credited much of her success to the faculty mentors and peer mentors who urged her to apply for the opportunities she has received, and assured her that she was just as qualified as anyone else.
"I'm a very proud Matador," Madhwani said. "Moving forward, I will scream from the top of my lungs that I am from CSUN, and I would not be anything if it weren't for the people I've met here."
Madhwani will be taking part in the commencement ceremony at 8 a.m. on Monday, May 22, on the lawn in front of the Oviatt Library.
Sunshine Williams, Outstanding Graduating Senior
If you asked a younger Sunshine Williams if she was a leader or a follower, she would immediately have answered the latter. "I'm not big on conflict," she said. "I like to go with the flow."
But the 35-year-old graduating creative writing senior has done nothing but lead during her two years studying on campus. During her first year, she tackled editing at The Northridge Review. Last year, she became the president of the Northridge Creative Writing Circle. This semester, she took a writing position at the CSUN Career Center; became the lead editor of C.A.P.T.U.R.E.D., the Department of Africana Studies' scholarly journal; was elected an Associate Students senator for the College of Humanities and served on the MataCare Emergency Grant board.
Williams regularly spent at least 10 hours every weekday on campus, but still managed to maintain a 3.96 GPA overall, joined three honor societies on campus and was the recipient of the 2017 AIFS Generation Study Abroad Scholarship. She is busy, but she wouldn't have it any other way.
"I realized I was the happiest when I was here," she said.
Williams faced a difficult road to CSUN. Growing up in poverty in rural Texas, homeschooled by a single mother, she earned her associate's degree in music from Northeast Texas Community College at age 18, got married and started her life as co-owner of a real estate appraisal company.
Before age 30, however, she was diagnosed with uterine cancer, split from her husband and decided to move to Los Angeles for a fresh start.
"By that time, I had a fairly good idea of who I was, but I still had no notion of what I wanted to do with my life," Williams said.
She found her calling her very first semester at CSUN. "I ended up in a class with professor Christopher Higgs, and watching him I thought, 'I want to do that — I want to teach!'"
After graduation, she plans to earn her master's and doctoral degrees in literature, hoping to eventually return to teach at CSUN.
"I realized that this was my path," she said. "It's changed my life."
Williams will be taking part in the commencement ceremony at 6 p.m. on Saturday, May 20, on the lawn in front of the Oviatt Library.
Roxxette Zepeda, Outstanding Graduating Senior
In a life of so many closed doors, it was a CSUN recruiter who opened a window for Roxxette Lezly Zepeda. The 17-year-old was late to class, running down the hallway of Francisco Bravo Medical Magnet High School in Los Angeles, one day during her senior year.
Joel Monroy, a recruiter for the university's Educational Opportunity Programs (EOP), stopped her in the hallway and asked, "'What are your plans after high school graduation?'" Zepeda recounted recently. "I said, 'I'm getting married, in an arranged marriage to an older man in Mexico.' He asked me, 'Do you want to?' And I said, 'No! I want to be a nurse.' He invited me to apply to CSUN's nursing program, through EOP."
Zepeda's first visit to CSUN was for her interview, on her 18th birthday. She was accepted through the EOP Residential Bridge Program, which gave Zepeda and gives other low-income, first-generation college students a summer home in the freshman dorms on campus and support transitioning to university life.
Five years later, Zepeda is completing her Bachelor of Science in public health in CSUN's College of Health and Human Development. This fall, she begins a graduate program at the UCLA School of Nursing. She plans to pursue a master's and Ph.D. in clinical practice and neonatal research.
She defied her family and an arranged marriage to pursue a college degree. She has finished college on her own — at times overcoming homelessness, hunger and wrenching family upheaval. But her maternal grandparents and other relatives, Zepeda said, have come around to support her because they see how far she has come.
Though she was born in LA, Zepeda was raised by her maternal grandparents at their ranch near Ensenada, Baja California, Mexico, until the age of 11 because her teenaged parents were unable to care for her. When her father won full custody, he brought her back to LA. Her mother has been in and out of jail due to a drug addiction, Zepeda said.
"When I graduated from high school, my father expected me to find full-time employment and a husband. I had a different agenda," she said. "When I was accepted to CSUN, my father gave me an ultimatum: him or college. … Even though I have known hunger and did not always have a place to stay, I took challenging classes, volunteered, mentored and conducted research. I kept moving forward with my education because I knew that was my future."
In 2015, Zepeda was accepted into CSUN's BUILD PODER research training program, which aims to increase diversity in biomedical research fields and prepare participants for Ph.D. programs. As part of her research, Zepeda volunteered at several area hospitals. She also worked as a peer mentor and EOP student office assistant, where she often mentored freshmen.
Zepeda will be taking part in the commencement ceremony at 8 a.m. on Saturday, May 20, on the lawn in front of the Oviatt Library.