Re-Accreditation Places CSUN's Nazarian College of Business in Top Five Percent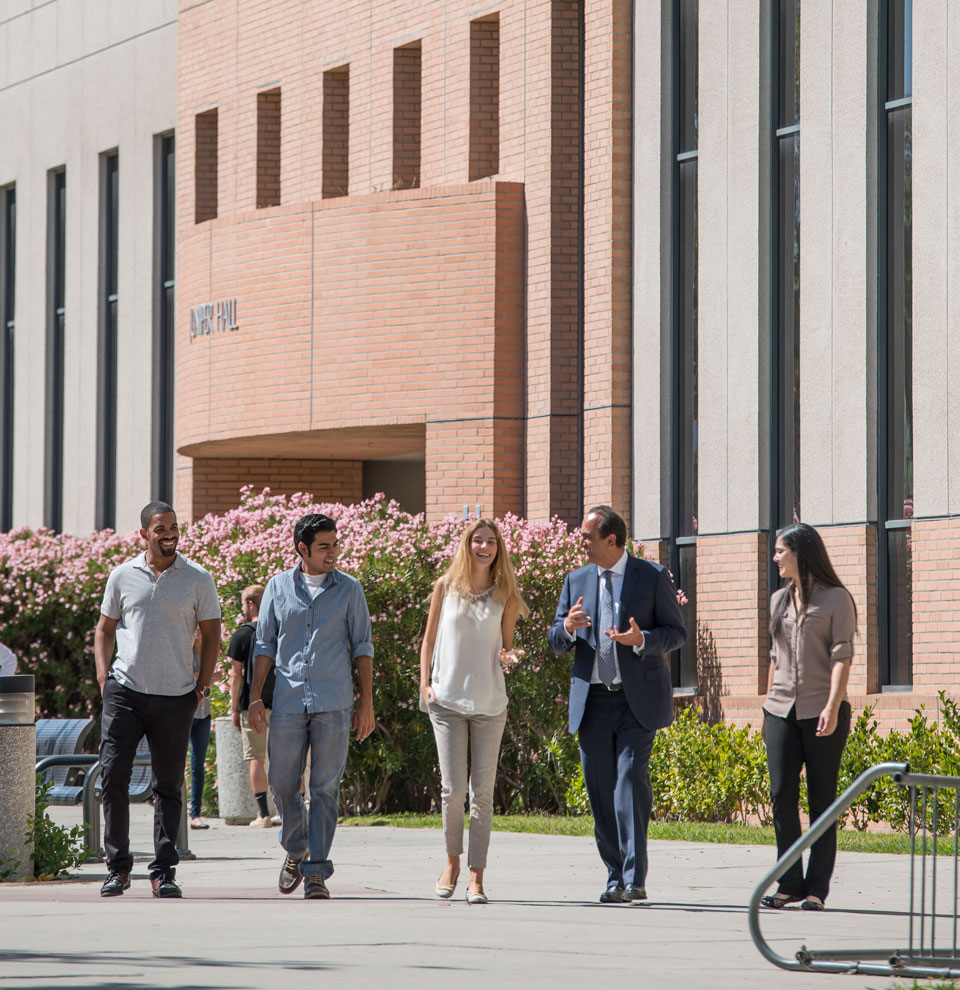 David Nazarian College of Business and Economics has maintained its business accreditation by AACSB International. Photo by Lee Choo.
The David Nazarian College of Business and Economics at California State University, Northridge has maintained its business accreditation by AACSB International, the Association to Advance Collegiate Schools of Business, a distinction earned by less than 5 percent of the world's business programs.
Founded in 1916, AACSB International is the longest-serving global accrediting body for business schools that offer undergraduate and graduate degrees in business. AACSB accreditation is the hallmark of excellence in business education.
"It takes a great deal of commitment and determination to earn and maintain AACSB accreditation," said Robert D. Reid, executive vice president and chief accreditation officer of AACSB International. "Business schools must not only meet specific standards of excellence, but their deans, faculty and professional staff must make a commitment to ongoing continuous improvement to ensure that the institution will continue to deliver the highest quality of education to students."
A peer-review team of two deans and a provost from other accredited institutions visited the CSUN campus in November as part of the process. Its report praised the Nazarian College for its "dedicated, collegial faculty and staff" and high-quality accounting initiatives, including the Bookstein Institute for Higher Education and Taxation and the Volunteer Income Tax Assistance program. The team's report also lauded the college's experiential learning opportunities for students and faculty through the Center for Financial Planning and Investment, its in-house career services, and "breakout initiatives" in student professional development, entrepreneurship and real estate.
In spring 2014, entrepreneur and business leader David Nazarian made a transformative gift of $10 million to his alma mater, forming the basis of a $25 million fundraising initiative for business education at CSUN that will keep the university rising among the ranks of elite business schools and make access to a premier education possible. With more than $16 million raised to date, changes taking place in the renamed David Nazarian College of Business and Economics include the addition of innovative hardware and software for financial analysis, and upgrades to laboratories for consumer and focus-group research. Other enhancements include expanded career education and professional development services.
The Nazarian College is the nation's ninth-largest business school. In addition to maintaining AACSB accreditation, the college and its programs have been recognized by a number of other prestigious organizations. In 2014, CSUN rose an impressive 32 positions in "U.S. News & World Report's" national rankings of the "Best Part-Time MBA Programs," the second-highest ranking among the 23 universities in the CSU system. The "Princeton Review" frequently ranks CSUN among the nation's "Best Business Schools," a distinction maintained in the 2015 edition announced in October. "Financial Planning" magazine has consistently included CSUN's program for Certified Financial Planners among its "Great Schools for Financial Planning in America," most recently in November.
"We are thrilled that AACSB International, the world's premier business school accrediting organization, has recognized the quality and impact of CSUN's David Nazarian College of Business and Economics," said Kenneth Lord, dean of the Nazarian College. "The extension of accreditation attests to our success as a leader in preparing students from diverse backgrounds for career fulfillment."
To learn more about the David Nazarian College of Business and Economics at CSUN, visit http://www.csun.edu/busecon. For more information about AACSB International accreditation, visit http://www.aacsb.edu/accreditation/.