Tabitha Sanchez's Dedication Pays Off with Newman Civic Fellow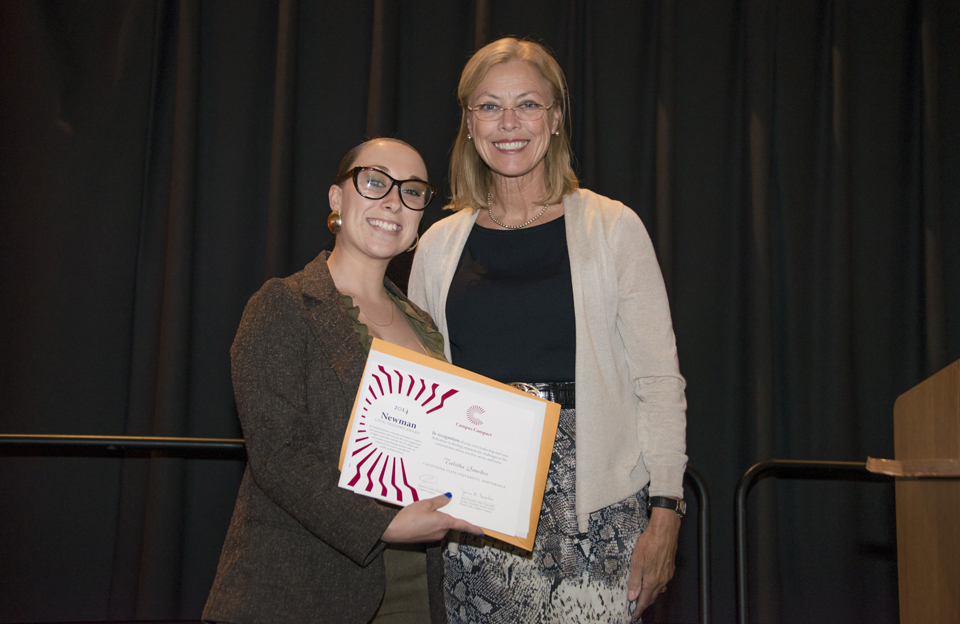 Tabitha Sanchez (left) was presented with her recognition as a Newman Civic Fellow by university president Dianne F. Harrison. Photo by Lee Choo.
Participating in beach clean-ups, tree plantings, street cleaning and feeding the homeless wasn't enough for California State University, Northridge sophomore communication studies major Tabitha Sanchez. She expanded her volunteer efforts to assisting families in poverty and mentoring at-risk youth, earning her revered recognition.
For all the work that she does to help those in need around her, Sanchez was recently given a 2014 Newman Civic Fellows Award. She is the second CSUN student to receive the honor in two years.
"To me, to be a Newman Civic Fellow means never forgetting where I come from because the only reason to look back is to give back while walking in my identity as a servant leader," Sanchez said. "[A fellow is] one who serves the mission while serving those on a mission."
Raised in a family where community service is highly valued, it was natural for Sanchez to work with volunteer programs long before she arrived at CSUN two years ago. While in high school, she volunteered to make holiday cards and sing carols for senior citizens with Carousel Preschool and Auntie Ronnie's Daycare; worked with at-risk middle school students at the Boys and Girls Club in L.A. Harbor; and had an internship with the Taco Bell "Graduate to Go" program in which she worked to raise awareness of high school dropout rates and encouraged young people to go to college.
In 2011, while a high school junior, Sanchez gained national recognition from the Boys and Girls Club for her "Stomp the Yard" step class. Her program for the San Pedro club stressed the importance of teamwork and unity. She was invited to teach a step workshop at the National Keystone Conference that year.
"I would put on step shows for the talent shows, which allowed all members to participate," Sanchez said. "I noticed the middle school kids really enjoyed each performance, which is why I turned it into a workshop. Every week it was a great turnout and the middle school students loved coming over to the high school side of the center. I think it gave them a sense of pride and motivation to be on the high school side.
"I learned that mentorship and being able to freely express oneself is a necessity for the younger generations because, soon, they will be the ones teaching children about the importance of team work, unity, hard work and sacrifice."
Upon arriving at CSUN, Sanchez quickly became involved with Unified We Serve, the university's community service organization. She helped put together Thanksgiving care packages for low-income families, took part in a campuswide clothing and food drive that raised more than 10,000 donations for local underserved families, fundraised for breast cancer resources, volunteered with Relay for Life and initiated a writing campaign for CSUN to create holiday cards to be delivered to senior citizens at a local convalescent home.
"My favorite event was raising money to provide three families Thanksgiving meals during the holiday," Sanchez said. "The opportunity to feed families who are financially unstable resonated deeply with me because my family and I have had to turn to resources such as MEND (Meet Every Need with Dignity) to make it through the holidays and day-to-day life. [It filled me with] humility and thanksgiving. I was humbled by the opportunity to be on the opposite end of retrieving donations. Thankful I finally had it to give back."
Sanchez also is a new student orientation leader and a cast member of TAKE, a student performance troupe that performs during freshman orientation skits that cover a variety of issues that may be encountered in college, such as racism, classism, sexism, homophobia, depression and other hardships.
Sanchez said her efforts to "give back" are "rooted, grounded and built upon reaching the hearts who may lack H.O.P.E. — hope, opportunity, purpose and encouragement."
"Having only taken a few communication studies courses, I use what I study in connection with my volunteer work by analyzing nonverbal communication, directly communicating and ultimately building relationships that constantly challenge and reinforce my communication skills," Sanchez said.
"Tabitha is a symbol of what CSUN has to offer in terms of students using their education to give back," said Justin Weiss, the activities coordinator of volunteer programs at the Matador Involvement Center. "She has used a lot of her opportunities to impact the lives of others, specifically with youth who need additional mentors to see that they can strive to be their greatest.  She has worked very hard to help these youth recognize their potential in many ways. We often think about CSUN students who make a difference, she is a stellar representative of CSUN Shine."
Across the country, only 197 student leaders representing Campus Compact member colleges and universities in 36 states and Washington, D.C. were awarded the Newman Civic Fellows Award. Named in honor of Frank Newman, a Campus Compact founder and advocate for the role of higher education in preparing students for active and engaged citizenship, the award recipients are an inspiring group of student leaders already making impacts in their communities. The award is sponsored by the KPMG Foundation. CSUN student Travis White was given the award last year.
"Beyond giving back and helping those in need, I gain a sense of identity as a servant leader in doing community service," Sanchez said. "I feel I'm at my best and within purpose when serving and meeting the needs of others."