Volunteers Honored at Annual Service Awards Events
California State University, Northridge officials presented awards earlier this month to 23 volunteers at its 12th annual Volunteer Service Awards, including the new CSUN for Life Award, which was given to Dick and Marcella Tyler; the Dean Ed Peckham Award, which was presented to emeritus professor Charles Macune Jr.; and the Dorothea "Granny" Heitz Award for Outstanding Volunteer Leadership, given to Harvey Bookstein '70 (Accounting).
"I appreciate that this particular occasion brings together multiple campus communities and their volunteers," said CSUN President Dianne F. Harrison to the honorees and others at the Nov. 1 event held at the Airtel Plaza in Van Nuys. "Doing so certainly allows administrators, faculty and staff to collectively thank you."
Hosted by the Alumni Association, the Volunteer Service Awards event recognizes its most active alumni, faculty and community friends. The volunteers are lauded for their service and commitment to enriching the university and surrounding community.
Alumni Association President Francine Oschin '84 (Journalism), M.A. '85 (Mass Communication) and D.G. "Gray" Mounger, assistant vice president for Alumni Relations, congratulated the winners.
"The Volunteer Service Awards luncheon is a CSUN tradition and a feel-good occasion," said Oschin, who is also a past honoree. "It does feel good to thank those for their service, and it's nice to be thanked by others."
Established this year by the Alumni Association, the CSUN for Life Award recognizes non-alumni friends of CSUN who, over time, have grown close to the university and proudly claim California State University, Northridge as their adopted alma mater.
This year's honorees were husband and wife Marcella and Dick Tyler, who have been affiliated with CSUN for 33 years and have logged a combined 50 years of service to four campus presidents and two interim presidents.
Marcella served as the executive director of marketing and communications for CSUN's Tseng College of Extended Learning for more than 33 years, and Dick's professional association as a faculty member and campus executive totaled 17 years.
Marcella holds the distinction of having been the longest-serving board member of the University Club and a three-term president. Dick was the first person in CSUN history to serve as associate vice president of public relations and communications. They both continue to volunteer and serve the university in various capacities.
Charles Macune Jr. — winner of this year's Dean Ed Peckham Award, given annually to an emeritus or retired member of the faculty or staff who continues to contribute to the CSUN community — was known for his unique style of teaching history. He served two terms as chair of the Department of History and for many years in the Faculty Senate. He retired in 2010 after teaching at CSUN for 42 years. Today, he is an active member of the Association of Retired Faculty; he attends university events and reunions; and his Charles W. Macune Jr. Scholarship Endowment provides scholarships to promising undergraduate and graduate students majoring in history.
Named in honor of the late Granny Heitz, CSUN's unofficial spirit leader and founder of the "Granny Girls" spirit squad, the Dorothea "Granny" Heitz Award for Outstanding Volunteer Leadership is annually presented to alumni or friends who serve the university as outstanding volunteer leaders.
Harvey Bookstein, this year's winner, has given back to CSUN in innumerable ways. He is the co-partner in charge of the Real Estate Services Group and former Managing Visionary Partner for RBZ, LLP, an accounting and business consulting firm he co-founded in 1975. With almost 40 years of public accounting experience, Bookstein is considered an expert in the fields of real estate and tax and estate planning and is a revered figure in the industry. Adding author to his list of accomplishments, Bookstein has recently published "Wake-Up Call: How I Changed My Life and Business — and You Can Too."
Beyond his commitment to his clients, Bookstein has also made an impact on campus. In 2005, Bookstein and his wife, Harriet, established the Harvey and Harriet Bookstein Chair in Taxation in the College of Business and Economics. This million-dollar donation is one of CSUN's largest gifts from an alumnus and created the first-ever endowed chair in the college. The endowment also funds the Bookstein Institute for Higher Education in Taxation, which houses the master of science in taxation program and the Bookstein Tax Clinic. He also serves on numerous boards and committees.
"The thing that makes the volunteer service awards event so special is its celebration of CSUN's human volunteer capital," Mounger said. "In one place, 250 or more of the university's most loyal and dedicated supporters and friends."
Following are the other award winners honored at the event.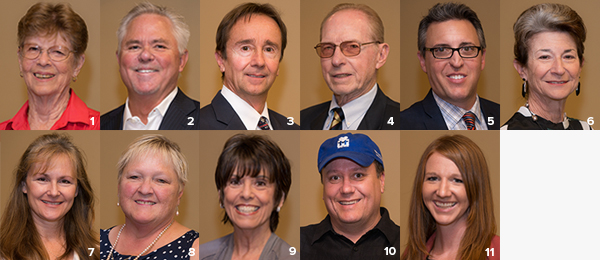 UNIVERSITY RECIPIENTS
1. Arts Council: Barbara Terry
2. College of Business and Economics: Kenneth Floyd '80
3. College of Engineering and Computer Science: Christopher Erickson
4. College of Health and Human Development: Ruth Rothman '73, M.S. '77 (posthumous)
5. College of Humanities: Michael Bloch '89
6. College of Science and Mathematics: Barbara Caretto
7. College of Social and Behavioral Sciences: Mary Anne Wolfson '10
8. Delmar T. Oviatt Library: Kathleen Paulson '84
9. Mike Curb College of Arts, Media, and Communication: Barbara Pinchuk
10. Student Affairs: Richard Weinroth
11. Student Affairs: April Lindh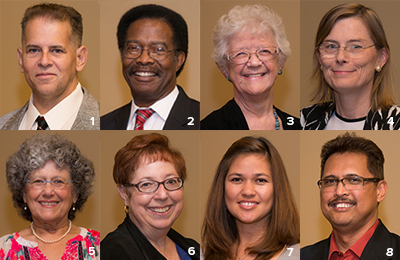 ALUMNI CHAPTERS
1. Accounting and Information Systems: Carlos Patron '99
2. Black Alumni Association: William Watkins '74
3. Child and Adolescent Development: Carol Kelly
4. Communication Disorders and Sciences: Gail Wilson Lew '86 (Cred.)
5. Environmental and Occupational Health: Arlene Feingold '84, M.S. '91
6. Journalism Alumni Association: Roberta Wax '73
7. Masters in Public Administration: Mitzuko Osuna '11
8. Radiological Sciences: Bob Ortego '85