Alumna Veteran Turned a Corner at CSUN
Rosa Moncada '15 (Psychology) heard bullets and bombs for nine months in Afghanistan in 2012 and 2013. She returned to the United States and found herself in a classroom only six days later. Struggling with the adjustment, she immediately had thoughts of dropping out of school. Then, she found the Veterans Resource Center (VRC) at California State University, Northridge's University Student Union — it lifted Moncada and motivated her to complete her degree.
"Honestly, I think I really would have dropped out of school," without the support of the VRC, Moncada said.
Moncada grew up in Palmdale with two siblings, in a single-parent household. Her father, Mauricio, is from Honduras.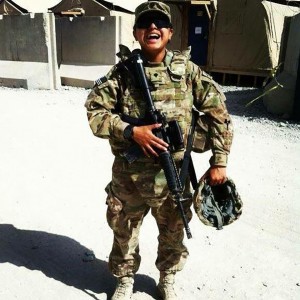 "He left his country to give me a better future," Moncada said. "In Honduras, they force people to join the military."
Moncada enrolled at CSUN right out of high school and completed a semester, but in what she called an act of rebellion, she joined the U.S. Army. Moncada said she didn't want to go to college in the first place.
In the military, she found herself in some harrowing situations. She was deployed to Kandahar, Afghanistan, in 2012.
"I [eventually] got used to the bombing and shooting, but the first few months, it was not knowing if we were going to make it," Moncada said. "Every day, there were IDFs (indirect fire) at the base. It was sporadic and random. Being on base wasn't as safe as I thought it would be."
However, Moncada was able to earn educational units while she was abroad and during her time in the military, she earned a substantial amount of general education units. When she returned from Afghanistan, she enrolled back at CSUN — but did not have enough time to rest her mind and adjust to regular life, she said.
"I had to jump in and be a civilian again," she said. "I was hurting. I went to seek help."
Moncada said she saw a therapist, but still felt lost. To escape from her struggles, she distracted herself with parties. A friend of hers who was working at the VRC suggested her to apply for a job at the center. Moncada applied and got a job as a student assistant.
She coordinated events for fellow student veterans, whom she also coached and mentored. It boosted her confidence, improved her outlook and strengthened her.
"The Veterans Resource Center was my home away from home — my therapeutic time," she said. "I stopped going to therapy. The Veterans Resource Center was my therapy."
Moncada was around people who were coping with the same challenges she faced. She felt that she was no longer alone, she said.
"My whole mentality about school changed," Moncada said.
The psychology grad is now pursuing a master's degree and in the process of becoming a deputy in the Los Angeles County Sheriff's Department. She is a reserve in the U.S. Army and works in student services at Rio Hondo College in Whittier.
She said all of this happened because she turned a corner at CSUN.
"CSUN's a vet-friendly school," Moncada said. "With the guidance of [the staff at the VRC], I was able to continue going to the school."