Celebrity Wedding Photographer Uses CSUN Psychology Lessons to Capture Beautiful Moments
Joe Buissink has never had a business card.
After landing Kelsey Grammer as his first celebrity client, Buissink's work became sought after among the A-list crowd and the rest have all been booked on word-of-mouth. Since then, he has photographed weddings for celebrities like Christina Aguilera, Meghan Trainor and Hilary Swank.
Buissink '93 (Psychology) uses the psychology skills he developed at CSUN to maneuver his way through photographing unique scenarios. His understanding of human emotions helps him to capture life's most precious memories.
"I'm after the moments," Buissink said. "So while photography has always been this thing of perfection, of creating the perfect image, there's no such thing as a perfect photo. Only a perfect moment."
His website is full of testimonials from celebrities. Michael and Yvette Jordan thanked him for "capturing some of the most important moments in our lives in such a beautiful way." LeAnn Rimes and Eddie Cibrian said he "captured every single emotion." World-renowned portrait photographer Annie Leibovitz said, "He sees the wedding as a rite of passage and approaches his subjects with great love and respect."
Buissink's photographs have been featured in books such as "Wedding Photography From the Heart," "The Wedding Box" and "I Do," a book by entertainer Jessica Simpson, whose wedding he also photographed. 
Born in Singapore, raised in Indonesia and Holland, Buissink moved to the United States at age 11 and served in the U.S. Army as a radio operator during the Vietnam War.
When he returned, he had an existential crisis that sparked his interest in the human psyche. After years of working many different jobs, Buissink decided to go back to school in 1989. He studied psychology at Los Angeles Valley College and transferred to CSUN with a 4.0 grade point average and a fascination with the brain and behavior.
At 42 years old, Buissink graduated from CSUN Magna Cum Laude with plans to earn a Ph.D. in clinical psychology.
Buissink always enjoyed photography as a hobby but during his first semester in CSUN's clinical psychology master's program, it quickly became his passion. He took a photograph of his wife, who died a few years later, and that image that changed his life forever.
What developed on 35 millimeter film was a black and white image of her breastfeeding their son, who looked serene as he made eye contact with the camera. The candidness of that photo and the beauty and joy it produced overwhelmed Buissink. He said that moment was so powerful that it compelled him to shift his focus to photography.
"I've always been a believer of following your passion" said Buissink. "If you follow your passion in life, you'll never work a day in your life. That's kind of my philosophy. So I've always followed it."
With this powerful image in hand, Buissink ran his new career plans by his neighbor, who was the photo director of L.A. Magazine. She offered Buissink a job as a stringer so he could get some hands-on experience photographing. It was then that he fell in love with capturing moments through photojournalism. He continued to do freelance work for the Los Angeles Times and L.A. Weekly as a photojournalist.
In 1995, Buissink decided his new venture would be photographing weddings. At the time, wedding photography consisted of tripods, specific cameras with attached lighting equipment and predetermined poses. He thought there was something missing in wedding photography that he felt he could offer: the moments.
His approach was to shoot weddings using photojournalism tactics: searching for the emotions that tell visual stories.
Buissink got his way into the industry by taking initiative. He got the name of a high-profile wedding planner and showed up at his office with 10 prints in hand. Impressed with Buissink's talent and fearlessness, the wedding planner booked him for a high-profile client: actor Kelsey Grammer, best known for his work on "Frasier" and "Cheers."
Before Buissink knew it, he was a go-to photographer for celebrity weddings.
With their fancy guest lists, remarkable venues and seemingly endless budgets, Buissink says celebrity weddings are always a privilege to shoot. He's shot at jaw dropping locations around the world such as beaches, mansions and ornate churches.
The more famous someone is, the more challenging it becomes to shoot.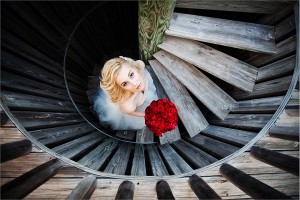 Aside from dealing with the publicist, lawyers and security, there is the pressing threat of paparazzi. According to Buissink, these photographers have scaled mountains, disguised themselves as security guards and even flown helicopters over venues in hopes of catching some of these stars' special days. If the paparazzi got a shot of Jennifer Lopez in her wedding gown, they would be able to sell it for millions of dollars, Buissink said.
Some celebrities counter this by selling select photos themselves to beat paparazzi to the punch.
Buissink recalls doing this for Lopez's wedding to Chris Judd. The venue was just a few miles from CSUN at a hilltop mansion in Calabasas. Despite the security precautions taken, the paparazzi were still able to camp out on a mountain across the property the night before the wedding.
Lopez needed him to take an up close and personal shot of Lopez coming down the aisle and send it out through a wire service that sends images to numerous media outlets.
This had to be done immediately so that long distance paparazzi shots would become worthless.
"It would be worthless because I got a frontal shot of them walking, nobody would want anything from overhead, from a long distance, they would want that one shot of them walking down the aisle, smiling." Buissink became animated as he relived the memory.
"So that's what she did. I stopped in the middle of the aisle with her, showed her my camera and I flipped through the images. She goes, 'that one' and that was it."
Even at Buissink's level, he says wedding photography isn't what it once was. With technology on the rise, more people are opting out of having a wedding photographer altogether.
He says the industry has been heavily impacted by the iPhone and the reality of selfies. "I had a bride say to me, 'Why should I hire you when I have 200 photographers coming to my wedding?'"
Again, Buissink uses psychology to approach this topic.
"I think in the end, it's the person behind the iPhone, behind the camera, that makes the difference," he said. "So what I would suggest to people that want to get into photography is to find out who they are and why they want to shoot."