Chiara Barzini Named Recipient of 2019 San Fernando Valley Award for Fiction
"Things That Happened Before the Earthquake" is the story of a 15-year-old girl who reluctantly moves from Rome, Italy, to Van Nuys with her parents, who are on a mission to master moviemaking in Hollywood.
Chiara Barzini's book chronicles the "Italian Valley Girl's" bittersweet journey of self-discovery, raw attraction and heartache in the years before the 1994 Northridge earthquake. The book has earned Barzini the 2019 San Fernando Valley Award for Fiction from the Friends of the Oviatt Library at California State University, Northridge.
"Chiara Barzini impressed this year's selection committee with her provocative narrative and beautifully written prose," said Mark Stover, dean of CSUN's Oviatt Library. "Her teenage tale of pre-temblor days in the Valley made for a memorable read. Barzini's talent is apparent from the very first page, and we are pleased to present this award to her."
Friends of the Oviatt Library created the San Fernando Valley Award — which alternates each year between fiction and nonfiction genres — to honor authors who showcase the notable roles the San Fernando Valley plays in Los Angeles history and culture, and recognize compelling works with a significant reference to the San Fernando Valley.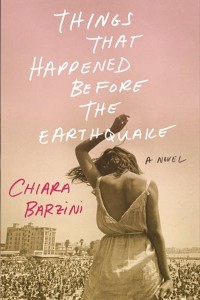 Barzini is a journalist who also writes fiction and for the screen. Her book, "Things that Happened Before the Earthquake," was released in 2017 and quickly drew critical acclaim from such entities as Oprah.com and The National Book Review.
A writer for The New York Times wrote, "Barzini, truly a writer to watch, positions herself astride both American and Sicilian cultures, and packs this visceral book with strong sensations from both. The novel and its heroine, Eugenia, are deeply seductive."
Barzini is currently working with an American director and film producer on turning her novel into a screenplay.
The Oviatt Library serves as the main research facility in the San Fernando Valley and is a popular hub for student learning and discovery. Located at the center of the CSUN campus, it offers academically and culturally relevant exhibits and events that attract students, faculty, staff and members of the community.
Information about all library events can be found at the Exhibitions & Events page on the library's website at https://library.csun.edu, or by calling (818) 677-2855.