CSUN Art Galleries Start Semester with Faculty Show
California State University, Northridge's Art Galleries are kicking off the new semester by presenting a rare exhibition of original work by CSUN faculty.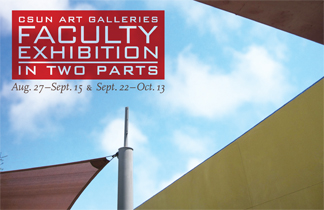 "Faculty Exhibition, In Two Parts" runs from Aug. 27 to Sept. 15, and from Sept. 22 to Oct. 13 in the galleries located at the north end of campus on Plummer Street (North University Drive) east of Etiwanda Avenue (West University Drive). The opening reception is scheduled from 4 to 7 p.m. on Sept. 8.
"We are trying to give a full spectrum of the art department," said Jim Sweeters, Art Galleries director. "From the studio arts alone we have painters, illustrators, a graphic designer, a print maker and an animator."
Splitting of the exhibition is unique, as most shows run for seven weeks. But with 11 artists, Sweeters wanted to offer them more space and equal showing time.
"The goal here is to see what faculty are doing here beyond teaching," said Sweeters.
Part One features work by Samantha Fields, Edward Alfano, Patsy Cox, Paula Diarco and Joy von Wolffersdorff. Part Two features work by Mark Farquhar, Jim Kelley, Lesley Krane, Laurel Long, Michelle Rozic and Christian Tedeschi.
Samantha Fields' work will be displayed during the first show. Her latest work "Be Careful What you Wish For", was culled from more than five years of archives of "failed" images, those where the camera did not pick up what she intended due to heat, water or movement, and those where she is in the scene rather than behind the camera. This marks a distinct shift in point of view from observational to experiential.
The work of children's book artist Laurel Long will be in the second showing. Long is a graduate of Syracuse University with a master's degree in fine arts. She has illustrated many children's books, including "The Mightiest Heart" by Lynn Cullen and "The Magic Nesting Doll" by Jacqueline K. Ogburn, which was awarded the Society of Illustrators Gold Medal, and American Bookseller's Association's Kids' Pick of the Lists.
On display will be illustrations from a variety of children's picture books. Long said she hopes the exhibition will offer insight into the people who teach at Cal State Northridge.
"I think students want to know what their professors do artistically and professionally in addition to teaching," said Long.
Special gallery lectures on the exhibition will take place Monday, September 10, at 10 a.m. and Monday, Sept 24, at 10 a.m. A closing reception is scheduled to take place on Oct. 13, from 4 to 7p.m.
For more information, contact the CSUN Art Galleries at (818) 677-2156 or visit their website at www.csun.edu/artgalleries.