President Harrison Celebrates 'CSUN' as a 'Shining Example' of the Promise of Public Higher Education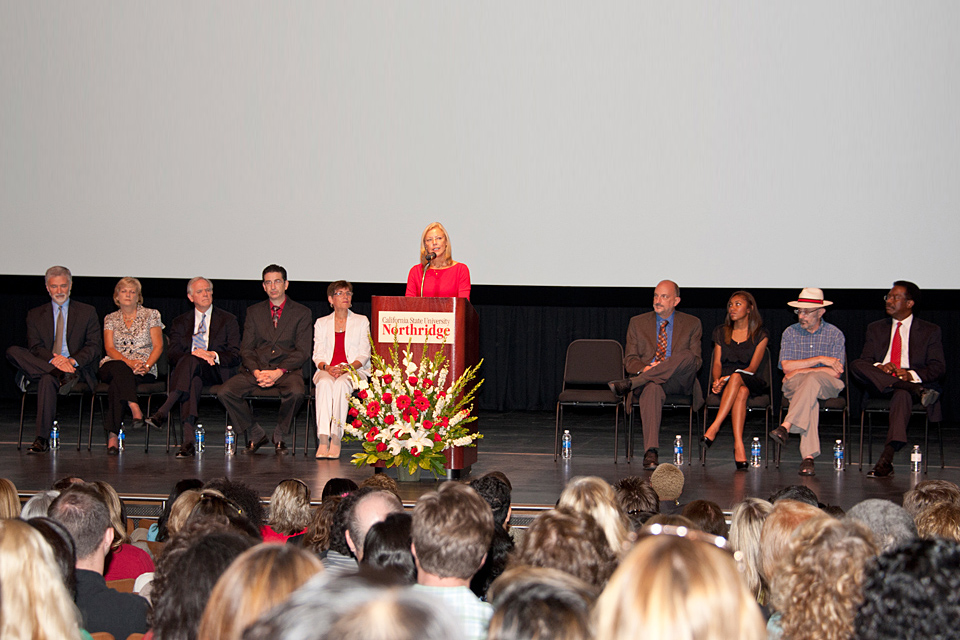 President Dianne F. Harrison delivers her first Convocation Address at the Valley Performing Arts Center. From left: Tom McCarron, vice president for Administration and Finance; Hilary Baker, vice president for Information Technology; Vance Peterson, vice president for University Advancement; Rick Evans, executive director of the University Corporation; Barbara Gross, chief of staff; Steve Stepanek, faculty president and senate chair; Sydni Powell, Associated Students president; Harry Hellenbrand, provost; and William Watkins, vice president for Student Affairs. Photo by Lee Choo.
Calling California State University, Northridge a "source of light" and a "shining example" of the promise and excellence of public higher education, President Dianne F. Harrison, in her first convocation address to the campus community on Thursday, Aug. 23, encouraged faculty, staff and students to help "CSUN shine."
Harrison said in her 11 weeks, nearly three months, at CSUN, she has been welcomed warmly. She said the university's initials, CSUN, seem so appropriate.
"Quite simply, I want to celebrate that CSUN does shine!" said Harrison, who elicited laughter when she commented that while she appreciates Southern California's sunny and "warm" climate, for the convocation she decided to have the event inside the Valley Performing Arts Center instead of outside to spare attendees the "hot sun." She was introduced by Faculty Senate President Steven Stepanek '73 (Math), M.S. '80 (Computer Science) and joined on the stage by campus leadership, including Associated Students President Sydni Powell.
"CSUN shines with a culture of collaboration and problem solving," she said. "CSUN shines with an unrelenting commitment to student success and initiatives that have made a difference and changed lives. The university shines through our outstanding faculty, staff and administrators, committed to their work and dedicated to our mission."
Harrison provided a list of examples of how the university shines, including an announcement that the founders of the 99¢ Only Stores have made a $2.1 million gift to CSUN for students who are not eligible for financial aid but whose families are challenged to pay for tuition. She said over the course of the gift, 120 students will receive four years of full tuition. She also announced that a new Veteran Resource Center and a Pride Center, which will serve the LGBTQ population, will open in September, and that the Matadome "finally" has air conditioning.
Harrison said as part of her "listening tour," an effort to learn more about CSUN, she has met with faculty, staff, students and donors. Her staff estimates that she has made more than 1,100 contacts with faculty and staff, met with 220 students, plus welcomed all of the 4,200 new freshmen who attended orientation. She also met and attended events with more than 600 external stakeholders – alumni, volunteers, donors, elected officials, and business, media and civic leaders.
After listening, asking questions, and listening more, both on campus and off, Harrison said she has learned that the campus has "a strong foundation" and has "many remarkable achievements."
"I want to help us add the second story to our existing solid foundation and structure," Harrison said.
She said her priorities are:
To continue to cultivate non-state resources. Harrison said the campus has persevered and moved forward through the past five years of budget challenges. Prudent planning and fiscal conservation have contributed to our financial stability. Only about 30 percent of our funding now comes from the state of California.
To ensure that CSUN's student success initiatives are continued and learn what else needs to be done to assist all students with degree completion and graduation.
To continue to bolster the visibility and reputation of the university through a new "positioning platform," the university website and other communications vehicles.
To support, endorse and champion an increased focus on applied research and sponsored programs. Harrison said she is pleased to see a growth in sponsored projects, up 60 percent to $28 million in grant volume in funding in 2011-12. She would like to see the volume of grants double over the next five years.
To focus on employees for success. Harrison said she would like CSUN to become known as a "destination workplace" where every employee recognizes they belong to a community of educators.
To continue the momentum that has kept CSUN moving forward. She noted several projects recently completed or underway including improving the appearance and functionality of the university's website; the planned launch of CSUN Today, an online newsroom; improved and extended KCSN-FM (88.5) signal coverage; a renewed commitment to sustainability; more focused attention and support services for international students; improved delivery of student services through process improvements; the giving of time and talent to each other; and the creation of a Southern California Eco-Region Demonstration Garden.
"Today, I am excited as we focus on the start of another academic year," said Harrison during her closing. "I hope you feel my excitement."
To illustrate her message, Harrison debuted a video prepared by CSUN VISCOM students with images of some of Cal State Northridge's many successes mingled with the words "CSUN Shine."
Visit the president's website to read the convocation speech in full.