CSUN Art Galleries to Showcase Student Art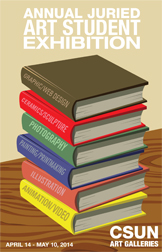 The Art Galleries at California State University, Northridge will showcase the talents of the university's students at CSUN's Annual Juried Student Art Exhibition which opens April 14 and runs through May 16.
The annual show features work by graduate and undergraduate students in all media of the visual arts, including animation, ceramic, drawing, graphic design, illustration, painting, photography, printmaking, sculpture, website design, and video.
The students submitted up to three art pieces created within the past year. Various art experts from outside the university served as "jurors," evaluating the entries and choosing 60 to 70 pieces for this year's exhibition.
The show is the year-end culminating event for both the Department of Art and the Art Galleries. Cash prizes will be awarded to students at a reception scheduled for Friday April 18, from 7 to 9 p.m. A gallery talk will also be taking place Monday April 21, at 10 a.m.
The main gallery is located in the Art and Design Center located on North University Drive, and is open Monday through Saturday noon to 4 p.m. and Thursdays noon to 8 p.m. To contact the gallery office or to schedule group tours, call (818) 677- 2156.
Parking is available in Lot D6 at Halsted Street and Lindley Avenue. Daily parking permits are available for purchase for $6 from the permit booth at Lindley and Nordhoff Street or Prairie Street and Darby Avenue, or at the yellow self-serve dispensers on the first floor of each parking structure. Visitors requiring accommodations for a disability call (818) 677- 2156 five-working days in advance.