CSUN's Valley Trauma Center Announces Name Change to Strength United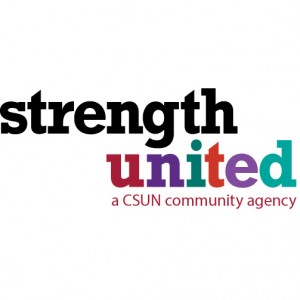 Officials with Valley Trauma Center, a charter center of California State University, Northridge that provides support to victims of domestic violence, sexual abuse and child maltreatment, announced today that the center is changing its name to Strength United.
Strength United, established in 1986 by faculty in CSUN's Michael D. Eisner College of Education as a rape crisis center, provides a 24-hour support and referral line; survivor accompaniments to forensic medical evidentiary exams, police departments and courts; individual, family and group counseling for all ages; case management; advocacy; clinical internships; and prevention programming across the San Fernando and Santa Clarita Valleys.
The new name is the product of a two-year collaboration with Strength United's internal and external stakeholders to develop a name reflecting the agency's members' belief in those they serve, while also reflecting the collaborative nature of their efforts to end abuse, empower families and develop leaders.
"Our achievements combatting violence would not have been possible without the strength of those who came before us in the child-protection, battered-women and rape-crisis movements; the strength of our staff, volunteers and partners; and the strength displayed by all those affected by abuse and violence," said Kim Golderberg-Roth, Strength United's executive director. "Our new name honors all that has been achieved, all that we see each day and all clients we come in contact with."
Strength United, which has offices in Northridge, Santa Clarita and Van Nuys, is the lead agency of the Family Justice Center in Van Nuys. The Family Justice Center is the first of its kind in Los Angeles County and represents a unique public-private partnership to end violence in the community of multiple agencies responding to domestic and sexual violence. The agency's on-site partners include the Los Angeles Police Department's Major Assault Crimes Unit, Center for Assault Treatment Services forensic nurse examiners, Los Angeles City Attorneys, Neighborhood Legal Services and Jewish Family Service Family Violence Project.
As a chartered center of CSUN, Strength United is unique among social service agencies in its ability to bring together students, faculty and researchers in its work, providing direct services to clients while developing a greater understanding of the field and preparing students for careers in related areas.
"Throughout our history, we have been steadfast in strengthening individuals and families to move beyond the impact of violence in their lives and hold the banner of peace and love in their relationships and communities," said Charles Hanson, a professor in CSUN's Department of Educational Psychology and Counseling, as well as a founder and executive administrator of Strength United. "We stand united in that effort, continuing to connect the learning center of the university to serve our community."
For more information about Strength United, visit its website, www.strengthunited.org.