CSUN Celebrates International Education Week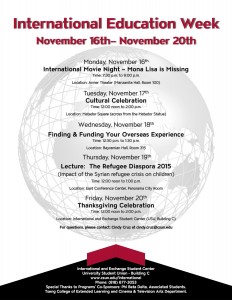 International Education Week is an annual initiative of the U.S. Department of State and the U.S. Department of Education. California State University, Northridge will celebrate the week of Nov. 16–20 with a full program of cultural explorations from around the globe.
To kick off the week, the International and Exchange Student Center (IESC) will host an open house for CSUN faculty and staff members from 11 a.m. to 2 p.m. on Monday, Nov. 16.
"It's a way of showcasing all our different departments, services and programs," said Cindy Cruz, programming coordinator.
On Monday night, the Armer Theater will host an international movie night, screening Mona Lisa is Missing, an Italian documentary about the disappearance of the Mona Lisa painting from the Louvre in 1911.
"We're bringing the producer and director on campus, so he will be available for a question-and-answer session after the movie," Cruz said.
On Tuesday, Nov. 17, Matador Square will host a cultural celebration from noon to 2 p.m. The IESC will host the event in collaboration with Associated Students, and the center has invited the French and Greek embassies to participate, as well as the Italian-American Museum of Los Angeles.
"Students from different countries, as well as students who have studied abroad, will be showcasing the great things of the specific culture they're from or where they have studied," Cruz said.
In addition to showcasing the different student cultures at CSUN, the celebration also will include a Chinese calligrapher, Henna student tattoo artists and Taiko drummers, who will present traditional Japanese performances.
"It's not only something that's great for our international student population, but also for our domestic students," Cruz said. "We introduce them to different cultures and the potential to study abroad."
CSUN has approximately 100 students each year who study abroad — a number that could be higher, considering CSUN's overall student population of more than 41,500.
On Wednesday, Nov. 18, students can learn about studying abroad and financial considerations for the program. The IESC and Department of Financial Aid and Scholarship will offer the workshop from 12:30 to 1:30 p.m. in Bayramian Hall 315.
"A lot of students don't realize that studying abroad is something within their reach," Cruz said. "We want to educate students on the financial aspect of studying abroad."
On Thursday, Nov. 19, organizers will host a lecture by the humanitarian aid consultant Andrea Capachietti on the Syrian refugee crisis and its impact on children. It will be held in the Panorama City Room of the University Student Union East Conference Center from noon to 1 p.m.
The week will conclude with an annual International Education Week tradition, a Thanksgiving celebration, from noon to 2 p.m. on Friday, Nov. 20, at the IESC.
"It's for all our students, but mainly introduces our international students to one of our biggest holiday celebrations," Cruz said. "We offer a Thanksgiving lunch with all the trimmings."
Preceding the lunch, students will learn about the history of Thanksgiving and what it means to U.S. citizens.
Nearly 3,100 international students from more than 94 countries around the world attend CSUN, and organizers expect participation in the week's events to be high.
"It's a great way for everyone to get to know about different cultures and what's going on worldwide," Cruz said.
For more information contact cindy.cruz@csun.edu or call (818) 677 – 3053.