A Clearer Life After Smoking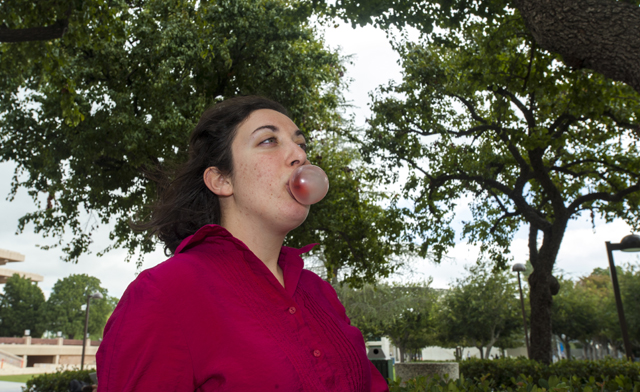 It's been more than five years since I smoked my first cigarette, and I still remember every detail of the experience.
I sat on the edge of a sidewalk with a friend — let's call him Ron — who always carried menthol cigarettes. It had been a particularly rough day at high school and home, and I felt the need to wind down and escape the chaos.
Ron suggested I go with him, where we could "take a deep, relaxing breath."
He opened a fresh pack of smokes and gave me a stick.
My hands were trembling, my head was aching and my heart was thumping erratically. But as soon as Ron lit up the end of the cigarette hanging out of my lips and I inhaled the smoke for the very first time, I felt relief wash over me.
As I exhaled the plumes of tobacco, all the dark and heavy burdens of my day blew away with the wind.
Twenty minutes later, as Ron and I ran to our choir class together, I felt only slightly ashamed that I did such a socially taboo thing. Smoking helped whisk away the stress for a while, and I didn't feel it rise up as aggressively if I could get hold of a cigarette.
When I got into college, however, it became more than a way to calm my nerves behind my parents' backs. I was now in a place where most of the community at University of California, Merced was legally able to buy cigarettes.
Of my six close friends living in the freshman dorms with me, five smoked. We would text each other, inviting our friends to a smoking session, or study outside while lighting up — or go to a party and smoke before we left.
Smoking with a group definitely made it harder to quit — not only are you quitting a bad habit, but you're quitting a group of people, too.
In the summer of 2014, I got a great opportunity to study abroad in Italy for a month. But a week before my voyage, I was bedridden with bronchitis. My lungs burned, my chest burned, my throat was inflamed and all I wanted was to breathe better again.
After six aching days when the only thing easing my lungs was Vaporub, I berated myself and told myself that I would stop smoking. Bronchitis was terrible, especially with lungs as weak as mine that summer.
I headed to the airport on that sixth day, arriving at the LAX Tom Bradley International Terminal four hours before my flight was set to depart.
By the second hour, an aching pulse throbbed in my right temple and my arms started to feel sore.
I was dying for a cigarette. So, I did the next best thing:
I bought a full carton of smokes for my month-long adventure in Florence, Rome and Venice.
As my plane landed in the Rome airport, a humid breeze and a glass room filled with fellow smokers greeted me. The smoking culture in Italy was a complete 180-degree turn from that in the U.S.
The U.S. Center for Disease Control (CDC) anti-smoking campaign, which launched in 2012, has used fear-based tactics to urge smokers to quit and prevent new smokers from starting.
One example is the video of all the "cool" characters who smoke that are portrayed in cigarette campaigns — the flapper girl, the camel, the rapper — who, through computer animation, suddenly devolve into a shrinking, gasping, graying old person slumped in a wheelchair, with an oxygen tank and heart monitor attached to her body.
Another obscure — yet equally graphic — video from the U.S. Food and Drug Administration (FDA) is that of a teen peeling off her skin to pay for a pack of menthol cigarettes, followed by the question, "What is smoking costing you? Your smooth skin."
The scare tactics are great at targeting teens and adults before they ever pick up the habit, but there is no real federal data proving that the same works for smokers like my (former) self in helping them quit.
According to the CDC's website, people using tobacco products between 2005 and 2013 in the U.S. decreased from 45.1 million to 42.1 million, which is less than 3 percent.
In Europe, it's a different story. The only anti-smoking ad I saw while abroad was in Venice, where it read in Italian, "Please … don't throw your cigarette butts into the canals."
In Italy, grandmothers smoked. Young men, old men and women with their friends smoked. I felt that I was no longer ostracized from the mainstream while walking the cobblestone streets, lit cigarette in hand.
While the country was culturally comfortable with smoking, Italy has seen a more than 8 percent decrease in smokers from 2001 to 2013 — from 28.9 percent to 20.6 percent, according to an article published in Bio Medical International.
It still fascinates me that Italy was able to have such significant results in its anti-smoking efforts. Part of it is due to the 2003 passing of the Sirchia law, which prohibits smoking in certain public areas, such as pubs and cabs, while raising the legal smoking age to 18. Another factor is arguably because they don't shame smokers.
I smoked, nonetheless.
I smoked in the piazza outside my Italian flat among the young, sun-kissed faces of Florentines. I smoked while walking the two blocks to my school building. I smoked while enjoying the breathtaking sunsets on the Arno River. I just wasn't allowed to smoke in the cafés or pubs.
The trip was more of a month-long vacation with light reading on the Renaissance than a study program. My stresses evaporated, as the only difficult decision I faced each day was what flavor of gelato I would eat.
My Italian adventure came to a close soon enough, and I faced heading back to a smoker-shaming America. I lit one last cigarette in an Italian airport smoking lounge before my 12-hour flight back to LAX.
By the time I transferred to CSUN in fall 2014, I was smoking at least three cigarettes before getting to campus at 8 a.m. By the end of the day, I had smoked 10 — about half a pack.
I lit up every time I got in and out of my car, as soon as I got coffee from the Freudian Sip, before and after a class — usually on the stone benches in front of Sierra Hall — and following every meal.
If I didn't have a cigarette during these breaks, I faced being on edge and having a headache that often progressed into a blaring migraine. My mood would nosedive, and it would affect my ability to focus on school and work.
I tried to rationalize my habit by telling myself that I deserved to take a smoke break — I worked hard! I went to the gym regularly. I ate well. At least I wasn't smoking a pack a day. The list went on and on.
Every weekend I drove the 75 miles to visit my non-smoking parents in San Bernardino County. I had to hide my cigarettes in the center console of my car, chew gum and douse myself in Febreeze before setting foot in the house.
Three days of secretive smoking near your parents' house every week can do wonders for your self-confidence. It made me want to light up as soon as I got onto I-210 heading toward Northridge. And I did, every single Sunday afternoon.
This wasn't the first time I felt smoker's remorse for having the habit, but smoking was a release for the problems I was facing in my daily life that seemed too heavy to hold without the cigarettes.
Ever since I left UC Merced in late 2010, the guilt of letting my family down spiraled me into a deep depression. I would sit on my bed, stare at the ceiling and then every few hours, go outside for a walk around the block to smoke.
I felt less upset once I got a job and started taking classes at Pasadena City College in spring 2011. I was picking myself back up, and I was going to make my family and myself proud.
I smoked to relieve the stresses of working and going to school full time. I would psych myself into thinking it was OK, since I was bettering everything else in my life. But my smoking worsened as my depression deepened.
As I neared the end of my first semester at CSUN ​​in 2014, I was diagnosed with clinical depression.
Clinical depression is, by definition, severe and not triggered by any life events — or is a prolonged reaction to a life event. Levels of the brain's feel-good chemicals, such as serotonin and dopamine, are especially low and difficult to boost without an antidepressant.
What made matters worse for me is that people with mental disorders such as depression, anxiety or attention deficit disorder have a higher risk of smoking than the general population, according to a 2010 article published by the American Public Health Administration.
In another article, published in 2000 by the Harvard Review of Psychiatry, people with clinical depression are more susceptible to smoking because the chemicals in tobacco, such as nicotine, augment the release of dopamine and serotonin.
This means that if a person with depression is feeling especially, well, depressed, tobacco use can temporarily lift their mood.
Of course, I didn't know about the link between mental disorders and smoking when I started at CSUN. So, I tried other methods to feel better, such as going to the gym.
My attempt to feel better seemed to work until I had a terrible coughing fit on the steps of CSUN's Student Recreation Center in spring 2015. I keeled over and braced myself on my knees as I tried to catch my breath. Instead of going for my usual jog, I ended up just walking on the track.
The idea of not being able to work out as vigorously because of my habit worried me so much that I wheezed out of the SRC within 15 minutes and went to smoke.
The irony and dilemma of smoking to relieve stress from the rising health risks of smoking loomed over me that semester. Although I saw a psychiatrist and was prescribed an antidepressant, my urge to smoke only lessened slightly.
Nicotine was no longer necessary for me to get a burst of serotonin, which my antidepressant provided, but my five-year habit of smoking whenever a stressful situation arose was still embedded deep within me.
It took the support of my boyfriend, Lucas, and CSUN's Clear the Air campaign to help me cut the habit.
Lucas and I quit smoking cold turkey together during the middle of the spring 2015 midterm season. And as one can imagine, the temptation to bum a smoke on campus was literally everywhere.
I recall walking to the Delmar T. Oviatt Library one afternoon to study with a classmate, who happened to be a smoker. My head was aching after catching a whiff of the smoke on his clothes. I had to bite my tongue so I wouldn't ask for a cigarette.
I texted Lucas instead: "I really want to ask my friend for a cigarette. Please help."
Lucas' response got me through those two grueling study hours: "Chew some gum and focus on your work, love. You are stronger than you think."
So, I chewed gum.
Having something in my mouth helped keep me busy and less anxious. I also discovered that eating excessive amounts of eggplant helped curb my nicotine cravings, since it is the second most nicotine-rich plant on the planet after tobacco.
Most people say the first few weeks after quitting are the hardest, but I beg to differ. It is still difficult, even after seven months with clean and healing lungs.
I still get cravings, especially during tough times like midterm season, but it helps coming to CSUN and knowing that the campus is now tobacco-free. Breathing smoke-free air while walking to the Freudian Sip, to class and to my car is refreshing. The temptation to bum a cigarette is virtually gone, thanks to Clear the Air. 
I remember the first time in five years when I felt free again. I stepped out of the Oviatt, sunglasses on, a stick of gum in my mouth and a bottle of bubbles in hand. It was a particularly breezy April afternoon.
I walked to a stone bench in front of Sierra Hall and sat in silence for a few moments, embracing the crisp wind that blew across my face. I pulled out the bubble wand, filled my quiet lungs with air and released. I watched the soapy orbs float away, and smiled.