CSUN Hosts 16th Annual High School Art Invitational
California State University, Northridge's Art Galleries will host the 16th Annual High School Art Invitational from Jan. 7 to 26, showcasing student and faculty art from 37 San Fernando Valley high schools.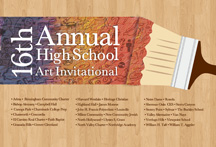 "This community event gives high school students an opportunity to show their work in a professional gallery," said Michelle Giacopuzzi, exhibitions coordinator for CSUN's Art Galleries. "It can be used on their resumes if they are inclined to continue working in the art field."
Each school is allowed to display up to six pieces of student art of various mediums, ranging from oil paintings to digital graphic design, bringing an estimated 240 student pieces to the Main Gallery. Concurrently, more than 30 pieces by the high schools' art teachers, many of whom are graduates of the CSUN art education department, will be featured in the West Gallery.
"The invitational is a great way to showcase young talent at the higher-education level," said Alydia Adamczyk, an El Camino Real High School visual arts teacher. "I've been on it from its first year and have witnessed how hyped the kids are when they see their work in the gallery."
The following high schools will be participating: Arleta, Birmingham Community Charter, Bishop Alemany, Campbell Hall, Chaminade College Prep, Chatsworth, Concordia, Amelia Earhart, El Camino Real Charter, Faith Baptist, Granada Hills Charter, Grover Cleveland, Harvard Westlake, Heritage Christian, Highland Hall, James Monroe, John H. Francis Polytechnic, Louisville, Milken Community, New Community Jewish, North Hollywood, North Valley Charter Academy, Northridge Academy, Notre Dame, Reseda, Sherman Oaks CES, Sierra Canyon, Stoney Point, Sylmar, The Buckley School, Ulysses S. Grant, Valley Alternative, Van Nuys, Verdugo Hills, Viewpoint School, William H. Taft and William T. Aggeler.
A reception for the exhibition will be held on Friday, Jan. 25, from 7 to 9 p.m. with refreshments and a performance by the CSUN music department's Masanga Marimba.
Not only does the event benefit the direct participants, it benefits the art and arts education communities, Giacopuzzi said.
"I hear from many high school art teachers that it is useful to them to see what other schools are doing and perhaps use this information for their own curriculum," she said.
For more information about the Art Galleries and its exhibits, visit its website at http://www.csun.edu/artgalleries/.