CSUN Hosts Inclusive Language Week to Raise Awareness About Mindful Speech
When people refer to something negatively as "gay" or "retarded," they often don't realize how hurtful those words can be. To raise awareness about hurtful words and expressions, California State University, Northridge's University Student Union (USU) organized Inclusive Language Week, Feb. 15-18.
"The event focuses on the power of words and the acknowledgement of the impact certain words can have on others," said Mary Ferris, USU student events assistant in special events. "Even though we have freedom of speech, we all should be more mindful with the things we say."
During the entire week, CSUN students can stop by the Sol Center of the USU to write down words they find hurtful and offensive. The words will be showcased in the front window of the Sol Center to demonstrate the need for inclusive language.
In ​Mean It!? The Impact of our Words, social justice advocate and educator Jessica Pettitt will speak about the importance and effects of inclusive language, from 5:30 to 7 p.m. on Tuesday, Feb. 16, at the Grand Salon.
On Wednesday, Feb. 17, the Northridge Center will host Espressions: Inclusive Language Edition, an open-mic night by Matadors, for Matadors. The event will include light refreshments and mindful music from 8 to 10:30 p.m.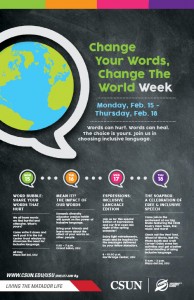 On the final day of Inclusive Language Week, the USU will host The Soapbox, a CSUN poetry slam, from 11 a.m. to 2 p.m. at Plaza del Sol. Students will enjoy live music and fun activities to gain a better understanding about the use of inclusive language.
"The campaign is targeted to the entire CSUN community because it affects the whole campus," Ferris said. "We're going to ask questions some people might have never thought about before and get them to think about certain expressions and words in a different way. We're ready to have a dialogue about the right use of words. People just need to come and listen."