CSUN Lecture Explores Revolution in the Science of Good and Evil
The moral code of right and wrong seems to be instinctively built into all of us. But is it a soul, the way we are raised or is it chemical?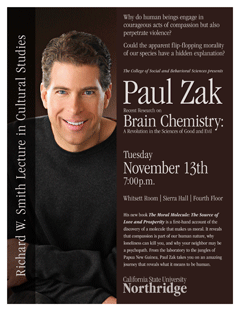 During this month's Richard Smith Lecture at California State University, Northridge, scientist Paul J. Zak will discuss his research on the chemical oxytocin which is laid out in his book, "The Moral Molecule, the Source of Love and Prosperity." In 2004, Zak's lab discovered that oxytocin helps humans determine whom to trust. His findings are being used to understand the basis for modern civilizations and modern economies, improve negotiations and treat patients with neurological and psychiatric disorders.
Zak's lecture, hosted by CSUN's College of Social and Behavioral Sciences, is scheduled to take place on Tuesday, Nov. 13, at 7 p.m. in Sierra Hall Room 451 (the Whitsett Room) on the west side of the campus located at 18111 Nordhoff St. in Northridge.
"I hope the folks attending the speech will learn more about our positive behaviors such as love, compassion, trust, etc., and that they can gain a better understanding of our negative behaviors like prejudice, hatred, and cruelty," said Richard W. Smith, creator of the Richard W. Smith Endowment in Cultural Studies at CSUN and the Richard W. Smith Lecture Series. "I also hope this lecture acts as an aid to those attending who are mental health workers and psychiatrists, to provide them with some practical tips to help their patients."
Smith noted that Zak "is an expert in the field and has done superlative, ground-breaking research which has changed most of our thinking about love, trust and hatred and distrust."
Zak is the founding director of the Center for Neuroeconomics Studies and professor of economics, psychology and management at Claremont Graduate University. He also serves as professor of neurology at Loma Linda University Medical Center. He has been a visiting professor at California Institute of Technology, UC Riverside, the Hoover Institution at Stanford University and the School of Business at Arizona State University.
He has degrees in mathematics and economics from San Diego State University, a doctorate in economics from the University of Pennsylvania, and post-doctoral training in neuroimaging from Harvard. During his doctoral studies, he was a visiting scholar at the Board of Governors of the Federal Reserve in Washington, D.C., and a Boettner Fellow in Financial Gerontology at the Population Studies Center at the University of Pennsylvania.
Zak is credited with the first published use of the term "neuroeconomics" and has been a vanguard in this new discipline.
He was also a featured TED speaker in 2011 and has appeared on, "Good Morning America," "Dr. Phil," "Fox & Friends," "ABC Evening News" and "NOVA Science Now." He has been quoted and reviewed in, NPR, The New York Times, The Wall Street Journal, USA Today, Time, The Economist, Scientific American, Fast Company, Forbes and many others.
His popular blog the Moral Molecule, is featured on the Psychology Today website with a dedicated, and active following.
The lecture is free and open to the public, however seating is limited. For more information about the lecture or to make a reservation, please call (818) 677-4030. For more information on the Richard W. Smith Series, visit the website http://www.csun.edu/csbs/.