CSUN Music Professor Emeritus Aurelio de la Vega Gets His Second Latin Grammy Nomination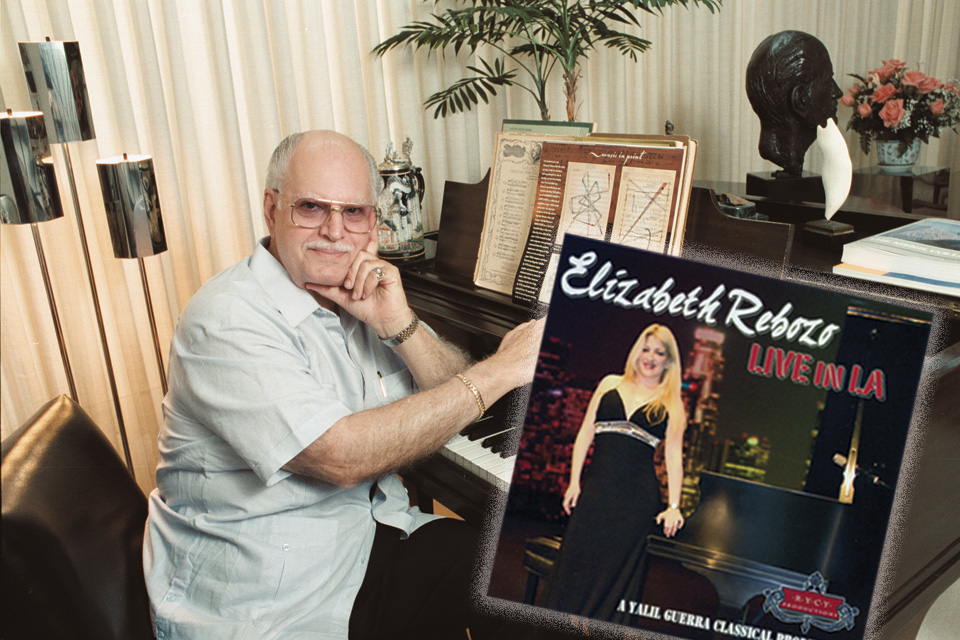 At age 86, acclaimed international composer and music professor emeritus Aurelio de la Vega has garnered his second Latino Grammy nomination for his piano piece, "Preludio No. 1," performed by pianist Elizabeth Rebozo on her "Live in L.A." album.
At age 86, acclaimed international composer and music professor emeritus at California State University, Northridge Aurelio de la Vega would be completely justified if he chose to spend his "twilight" years resting on his laurels and taking it easy.
Instead, de la Vega has received his second Latin Grammy nomination for Best Classical Contemporary Composition for his piano piece, "Preludio No. 1," performed by pianist Elizabeth Rebozo on her "Live in L.A." album.
"Another diploma, another medal, another Las Vegas bash," de la Vega said with a laugh. Turning serious, he added, "This is kind of a nice addition to what has been a very good year for me and my music."
Earlier this year, de la Vega was honored by Centro Cultural Cubano de Nueva York (Cuban Cultural Center of New York) with the Ignacio Cervantes Medal, the organization's lifetime achievement award for excellence in classical music. De la Vega traveled to New York to receive the honor and enjoy a testimonial concert that celebrated his life in music.
A few months later, de le Vega was recognized with a special concert of his work in Madrid, Spain. In December, the composer will travel to Miami for another concert and to receive recognition from the area's Cuban Art Museum.
In the meantime, he's preparing to go to Las Vegas next month for the Latin Grammies. It will be his second trip to the awards ceremony. He was nominated for his first Latin Grammy, Best Classical Contemporary Composition, in 2008 for his "Variación del Recuerdo (Variations of the Remembrance)," performed by the North/South Chamber Orchestra.
De la Vega said what makes this year's nomination even more special is that Yalil Guerra, "the only student I have accepted since I retired from CSUN," has also received a nomination in the Best Classical Contemporary Composition category for his piece, "Seducción." Guerra also is the producer of Rebozo's album, "Live in L.A."
"Regardless of what happens, it will be a very special evening," de la Vega said. "I feel very proud of having passed the torch to a younger Latino generation of classical musicians."
De la Vega was born in Havana, Cuba, in 1925 and studied law at the University of Havana and music composition at the Conservatorio Ada Iglesias. He also studied independently with Fritz Kramer in Havana and Ernst Toch in Los Angeles. De le Vega served as cultural attaché in the Cuban Consulate in Los Angeles and toured the United States as a lecturer from 1952 to 194 before settling in Los Angeles. De la Vega joined the faculty of what was then San Fernando Valley State College, now Cal State Northridge, in 1959.
Throughout his teaching years and in the years since his retirement in 1993, de la Vega has been an active composer and music lecturer. His list of compositions includes symphonic pieces, chamber music works, solo instrumental pieces, vocal works and piano, guitar, ballet and electronic compositions. Major orchestras and prominent soloists throughout the world have performed his works.
The composer has been the recipient of many prizes and distinctions, including having twice received the Friedheim Award of the Kennedy Center for the Performing Arts. In 2009, the Cintas Foundation in New York bestowed upon him the William B. Warren Lifetime Achievement Award "for his internationally acclaimed contribution to music composition."
In 2000, the Library of Congress honored de la Vega when his graphic score, "The Magic Labyrinth," was included in the library's 733-page volume, "Music History from Primary Sources." Among the music greats included with him were Bartók, Beethoven, Brahms, Chopin, Gershwin, Handel, Liszt, Mahler, Mendelssohn, Mozart, Puccini, Stravinsky and Verdi.
A new CD featuring his piano trio from 1949 has been released by the B3:Brouwer Trio. "The Beautiful Cuban Woman," produced by Guerra, includes chamber music from Cuban composers from the 19th century to today.
California State University, Northridge is a regionally focused, nationally recognized university serving more than 34,000 full- and part-time students in the San Fernando Valley and surrounding areas. Founded in 1958, Cal State Northridge is among the largest universities in the nation and is ranked among the top universities for bachelor's degrees awarded to minority students. It has nine colleges and more than 2,000 faculty members who teach courses leading to bachelor's degrees in 69 disciplines, master's degrees in 58 fields and doctorates in education and physical therapy, as well as 28 teaching credential programs. Continuously evolving and changing to meet the needs of California and the nation at large, the university is home to dozens of acclaimed programs where students gain valuable hands-on experience working alongside faculty and industry professionals, whether in the sciences, health care and engineering or education, political science, the arts and the social sciences.