CSUN Signs MOU with American University of Armenia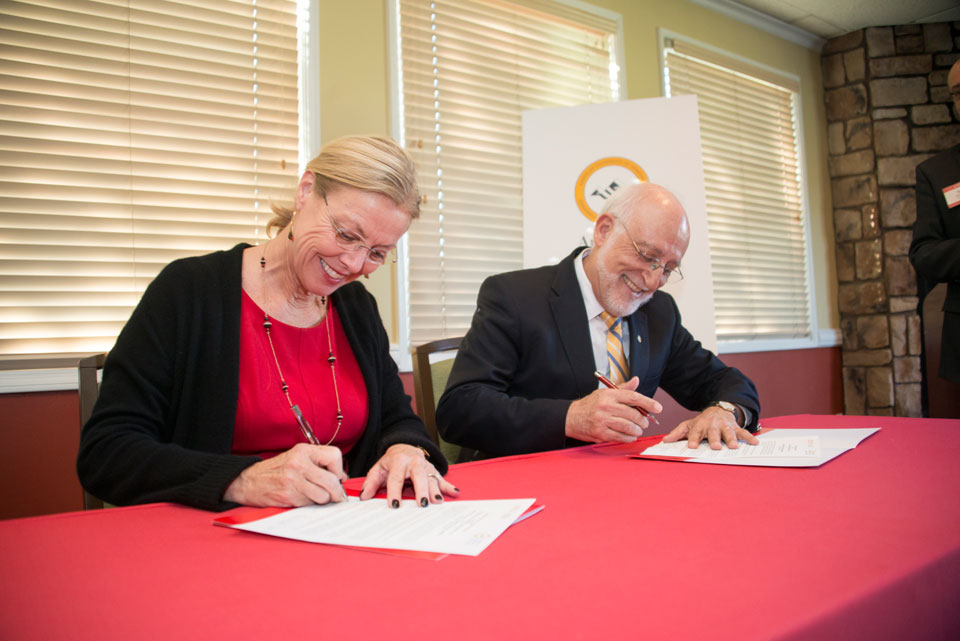 CSUN President Dianne F. Harrison (left) signs a memorandum of understanding with AUA President Armen Der Kiureghian to foster scholarly and educational collaborations. Photo by Lee Choo.
The presidents of California State University, Northridge and the American University of Armenia (AUA) have signed a memorandum of understanding (MOU) to foster scholarly and educational collaborations.
The memorandum enables faculty and student exchanges between the two institutions and encourages the development of joint teaching and research projects between CSUN and AUA faculty.
"Given CSUN's strong relationships with the Armenian community, we are very proud of this partnership," said CSUN President Dianne F. Harrison, who signed the MOU with AUA President Armen Der Kiureghian during an official ceremony on Friday, Oct. 30, at the Northridge campus.
Harrison noted that 8 percent of CSUN's more than 41,500 students are of Armenian descent, as are more than 125 full- and part-time CSUN faculty and staff.
"This first step is creating opportunities for CSUN students and faculty to study and learn together in Armenia with AUA students and faculty," she said. "I look forward to seeing specific opportunities that future steps will bring."
Der Kiureghian agreed.
"There are many, many different ways that both universities can benefit, both for our students and faculty," he said. "I am very pleased about the potential that the MOU offers us."
While the MOU does not involve a fiscal commitment on either institution's part, leaders from both universities have committed to support the development of joint programs, and to work collaboratively on projects and activities where possible. Potential areas of collaboration include women's studies, public health, nutrition and dietetics, teacher education, environmental chemistry, early childhood development, nonprofit management, Armenian studies, sustainability, nursing, and engineering and computer science.
In addition to faculty and student exchanges, the memorandum also encourages the admission of the other university's undergraduate and graduate students, in keeping with the academic standards, rules, procedures, policies and practices of each institution for international students.
To keep the momentum of the collaboration going, Dianne Philibosian, faculty member and former director of CSUN's Institute for Community Health and Wellbeing, will be traveling to Yerevan, Armenia, to meet with AUA officials for further discussions regarding their needs and thoughts. Upon her return, Philibosian will work with representatives from AUA and CSUN to develop a formal process for the exchange of students, faculty and research programs between the two institutions.
Founded in 1991, the American University of Armenia is a private, independent university located in Yerevan, Armenia and affiliated with the University of California. AUA is the first stand-alone, U.S.-accredited institution in the former Soviet Union that provides undergraduate and graduate education.
The American-style education that the university offers is grounded in principles of academic freedom, knowledge-based learning emphasizing inquiry and critical thinking, and multidisciplinary studies. AUA also strongly advocates for public service and democratic values anchored in an ethical and merit-based environment, and provides access to state-of-the-art facilities. AUA offers three undergraduate and eight graduate degree programs to about 1,500 students.
Serving more than 40,000 students each year, CSUN is one of the largest universities in the United States. CSUN ranks 10th in the country in awarding bachelor's degrees to underrepresented minority students, fifth nationally in awarding master's degrees to Hispanic students and enrolls the largest number of deaf and hard-of-hearing students of any U.S. state university. CSUN's 171 academic programs and engaged centers enjoy international recognition for excellence. CSUN currently partners with more than 100 institutions of higher education in 22 countries around the globe and attracts the largest international student population of any U.S. master's level institution.