CSUN Uses Broadway-Inspired Musical to Teach Children Healthy Life Choices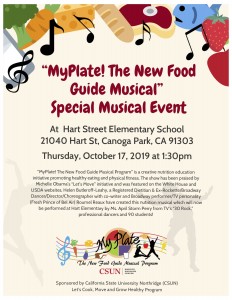 California State University, Northridge students this week will assist registered dietitian and Broadway choreographer performer Helen Butleroff-Leahy, in implementing a Broadway-style musical designed to teach children about the benefits of healthy eating and physical fitness.                      
Approximately 200 elementary and CSUN students on Thursday, Oct. 17, and Friday, Oct. 18, will perform with Butleroff-Leahy and April Storm Perry in the Broadway-inspired "MyPlate! The Food Guide Musical" as part of CSUN's Let's Cook and Move in Schools! program in conjunction with the Marilyn Magaram Center for Food Science, Nutrition and Dietetics in the College of Health and Human Development.
"MyPlate! The Food Guide Musical" is a creative nutrition education initiative program designed to promote healthy eating and physical fitness. It was created by Butleroff-Leahy and "The Fresh Prince of Bell Air" TV personality Roumel Reaux. This year, the script includes a new gardening number and a discussion of non-dairy food sources of calcium.
"The dramatic increase in the prevalence of childhood obesity have prompted the need for broad interventions in order to address this public health issue," said Annette Besnilian, nutrition and dietetic professor and executive director of the Marilyn Magaram Center.
Hart Street Elementary School's performance is scheduled at 1:30 p.m. on Thursday, Oct.17, at 21040 Hart St., Canoga Park,and Calahan Elementary School's performance is scheduled for 1 p.m. on Friday, Oct. 18, 18722 Knapp St., Northridge. The musical has been implemented 116 times nationwide and was recognized by Michelle Obama's Let's Move!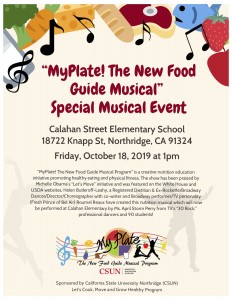 Nutrition Initiative and the United States Department of Agriculture.
"We have been conducting evidence-based research on this program with our colleague Scott Plunkett and our CSUN dietetic students over the last four years," Besnilian continued. "Our results suggest this fun interactive musical intervention is a great tool to increase both children and parents' nutrition and physical activity and knowledge and behavior."
In 2017, the program received national recognition from the University Economic Development Association. At the end of this month, the program will be presented for the third time at the Academy of Nutrition and Dietetics: Food and Nutrition Conference Expo in Philadelphia.
Program organizers hope to identify local talent through Los Angeles and CSUN students in hope to expand the program. Auditions will be held with Butleroff-Leahy and Irene Stockton, The Casting Society of America casting director.