CSUN-al Gardening Offers Tips for Herb and Vegetable Gardens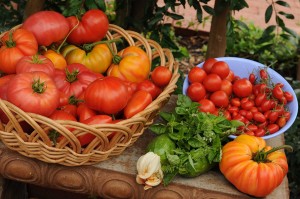 Home-grown herbs and vegetables create aroma-rich plots that provide colorful and rich textures in one's yard, while offering nutritious and flavorful options for dining.
Growing herbs and vegetables at home can be rewarding, when basic cultural needs are met. Yvonne Savio, who retired in 2015 as master gardener coordinator for the University of California Cooperative Extension in Los Angeles County, will provide tips on how to meet those needs, and how to successfully cultivate herbs and vegetables year-round at the next CSUN-al Gardening class offered by California State University, Northridge on Saturday, Nov. 16.
"Yvonne's two-and-a-half-hour class will cover year-round planting, with an emphasis on cool-season crops," said Brenda Kanno, manager of the CSUN Botanic Garden, which is offering the class. "She also will bring plants grown in her home garden to discuss and share with class attendees."
Kanno said Savio will offer a follow-up CSUN-al Gardening class in January 2020 that will include an alphabetical compendium of 60 vegetables and herbs that are well-suited for Southern California gardens. Registration for the January class will be announced at a later date.
In her 20-plus years as master gardener coordinator for the University of California Cooperative Extension, Savio has shepherded almost 1,200 master gardeners through the Master Gardener Program. Having retired in 2015, Savio continues to cultivate enlightened gardening through her information-packed www.GardeningInLA.net website.
Registration for Savio's Nov. 16 class is required. To request a space in the class, email botanicgarden@csun.edu. Include your name and the number of seats you are requesting in the email. Driving and parking instructions, as well as the class meeting location, will be sent upon registration.
CSUN's Botanic Garden is operated by the university's Department of Biology and serves as a field site for botany, entomology, photography, painting and other classes. In addition to geographically themed plantings and a butterfly garden, the garden also features greenhouses where noteworthy botanical specimens are grown.
The garden is open to the community. Visit the Botanic Garden website at www.csun.edu/botanicgarden/ for more information.