CSUN's Chicana/o Studies to Celebrate 45th Anniversary with Benefit Concert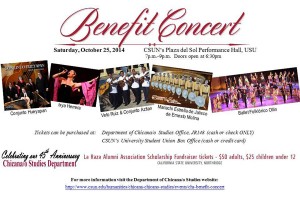 California State University, Northridge will celebrate the 45th anniversary of the founding of its Department of Chicana/o Studies with a benefit concert scheduled to take place Saturday, Oct. 25, at 7 p.m. at the university's Plaza del Sol Performance Hall.
The evening will commemorate the interdisciplinary nature of the department and its efforts to cultivate and teach Mexican musical, song and dance traditions. The night's master of ceremonies will be Spanish-language radio and television personality José Ronstadt.
The celebration also will shine the spotlight on CSUN faculty members, alumni and associates who have achieved regional, national and international recognition for their teaching and performance. The concert will include performances by Conjunto Hueyapan, Ixya Herrera, Veto Ruiz, Ballet Folklorico Ollin and Mariachi Estrella de Jalisco de Ernesto Molina.
"Since its establishment, the Department of Chicana/o Studies has offered both lecture and practicum courses in the fields of traditional Mexican music, song and dance," said CSUN Chicana/o Studies professor Fermín Herrera. "It has also sponsored workshops, symposia, recitals and concerts covering many facets of Mexican musical heritage: sones jarochos, sones huastecos, sones de mariachi, sones abajeños, banda, norteño, marimba, salterio, rondalla, huapangos, pirecuas, boleros, corridos, cancione clásicas and canciones rancheras."
The evening will include performances of Mexican narrative songs, corridos, by professor Everto Ruiz and Conjunto Aztlan, an ensemble founded in the late 1960s through the sponsorship of the Chicana/o Studies department and which includes department alumni. Harp, requinto and jarana music, son jarocho, will be performed by Conjunto Hueyapan, which is comprised of Herrera as director and María Isabel Herrera, Xocoyotzin Herrera, Xilomen Herrera and others.
The concert also will feature traditional Mexican dance in the jarocho and mariachi style by Ballet Folklórico Ollin, a dance company established by CSUN alumna Virginia Diediker as part of a class project. Additionally, traditional Mexican songs will be performed by vocal artist Ixya Herrera, also a department alumna; and sones de mariachi by Mariachi Estrella de Jalisco de Ernesto Molina, an ensemble that has worked closely with some of the department's faculty.
All ticket proceeds benefit the CSUN MEChA Scholarship Fund, Ignacio Pulido Scholarship Fund and the Adrian and Ezekial Rodriguez Scholarship Fund.
Tickets may be purchased at the Department of Chicana/o Studies' office in Jerome Richfield Hall Room 148 from 9 a.m. to 4 p.m., Monday through Friday. To reach the department, call (818) 677-2734. Tickets are also available at CSUN's Associated Students' Ticket office in the University Student Union 10 a.m. to 6 p.m., Monday through Saturday. To reach the ticket office, call (818) 677-2488.
The Plaza del Sol Performance Hall box office also will be selling tickets the night of the event, beginning at 6 p.m.
Parking for Plaza del Sol Performance Hall is located in the G3 parking structure. The G3 parking structure can be accessed by entering Prairie Street from Zelzah Avenue. Parking passes are $6 and can be purchased at machines within each parking structure or Information Booth 3, located on Prairie Street off Zelzah Avenue. Parking passes can also be pre-purchased at The Permit Store online.