CSUN's First-Ever Animated Opera Is a New Way to Experience Musical Performance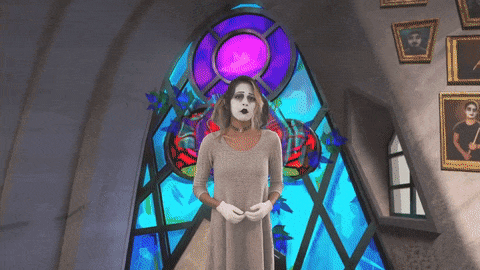 CSUN Animated Opera – Gianni Schicchi
---
California State University, Northridge music graduate student Adam McCrory had never done opera quite like this.
He was wrapped in a green blanket — the same bright hue as the wall behind him — the hem tucked carefully so that on camera, it would appear that only his head was floating over the sea of bright green while he lip synced to a pre-recorded track of his singing.
McCrory said the process was "bizarre." But, with a little technological magic, his head, which floated alone in a green screen, would be added along with several other heads to become part of a wall of moving faces inside picture frames. And what McCrory called "the big green void" would transform into a 14th-century Florentine mansion — with stained-glass windows, towering archways and glowering gargoyles — the setting of Giacomo Puccini's one-act opera "Gianni Schicchi."
In a monumental effort unlike anything in CSUN's history, three departments joined forces for a fresh take in telling the musical story of the Schicchi character. The students and faculty replaced elaborate set pieces, complex stage direction and a live orchestra with creative innovation — bringing an opera production to life through animation.
CSUN's first-ever animated opera, which is set to premiere at 7:30 p.m. on May 8 on the CSUN Opera YouTube channel, will be the opus of a nearly year-long collaboration of dozens of students and faculty from the music, art and theatre departments.
"There's no real roadmap to this," said CSUN animation professor Michael Bonitatis. "In terms of how we're doing it, there's a lot of trial and error and finding the right formula to create the visuals for the compelling story."
The animated opera began as an effort by opera music director and professor Mercedes Juan Musotto and the animation professors, who refused to let the pandemic become a hindrance for their students — and who were determined to provide them an opportunity to make the most of their time at CSUN before graduating.
"This is a really great opportunity to take something that's kind of a disadvantage and make an opportunity out of it for the students, for the music and art departments, and everybody that's involved," said animation area coordinator and professor Mark Farquhar.
Enlivening everything from gargoyles that react to the story's events with candles for fingers, to the ghost of an Italian magnate, animation opened doors to tell the surreal story in ways the stage could not.
Audiences can expect in the May premiere a one-of-a-kind audiovisual experience that fuses the aural excitement of a live opera — the richness of a full-sized orchestra and the passion of every singer — with the reality-breaking spectacles of animation.
To accomplish that, it has taken a village.
"We had never really done anything of this magnitude across various departments and during a pandemic," said animation professor Noah Amrani, who serves as the project's lead editor and VFX supervisor. "There are well over a hundred shots that we have been working on for this opera, every single one of which is a VFX and/or animation shot."
The effort is one of the largest projects in CSUN's history, with dozens of students collaborating with professors across numerous disciplines. A massive team assembled the fully animated rendering of the sights and sounds of Puccini's interpretation of Florence, Italy, piece by piece, from recording the soundtrack, filming performances and animating every scene to editing the final product.
The artistic collective includes a total of 107 students — 24 instrumentalists from the CSUN Symphony Orchestra, 15 singers from the CSUN Opera, 46 student animators (many of whom were able to work on this production as their senior project), 20 visual effects (VFX) artists, two theatre students who assisted with stage management — and a handful of professors from the music, art, theatre, and cinema and television arts departments. The professors advised and mentored students in putting together a production, assisting with costumes, makeup, lighting, recording video and more.
Recreating a Live Orchestra
Fortunately, putting a show together remotely is not uncharted territory for the CSUN Opera, which released three short virtual performances in 2020 as a response to stay-at-home orders in California.
Musotto said the backbone of the whole animated show — the soundtrack, which marries the operatic singing with the orchestra's accompaniment — was a matter of falling back on what she and her students had learned from last year's virtual performances, and magnifying that process for an hour-long program.
Singers and instrumentalists set up home studios to record themselves, said Musotto.
After Zoom rehearsals with Musotto in August 2020, the singers and musicians recorded their individual parts with the help of Soundtrap, a web-based music software that allowed the musicians to collaborate online. To help the instrumentalists and singers understand how their parts fit in with the whole, Musotto used more than 50 different sample library sounds in the digital sound software Logic Pro X and a midi keyboard to record a mock-up orchestra, which would be replaced later by the CSUN Symphony recordings.
Without a conductor guiding the group, Musotto said, she had to figure out how to unify the tempo of all the musicians. Back in April 2020, in the CSUN Opera's first attempts at a virtual performance, they learned this the hard way — producing an outcome that was initially out of sync and out of tune. Using a metronome helped them get it right.
"The metronome is the unifier," she said. "The live orchestra is very flexible — you can move with the singer's tempo in the way that they need. This is different because [the singers and musicians] have to basically follow the click."
Upon all the completion of the recordings, Musotto edited all the parts together on Logic Pro X and later added sound effects.
But the vocals were only part of the process for the singer-actors — later, they would need to get in front of the camera to embody the roles they'd voiced.
Elevating the Virtual Stage
Without the limits of real life, "Gianni Schicchi" gets a dreamlike treatment in the animated production. Audiences get to encounter Florence through a German Expressionist lens — visually surreal, with angular architecture and otherworldly creatures.
Inspired by a section of Dante Alighieri's "Divine Comedy," "Gianni Schicchi" tells the story of its titular character, whose duplicitous act of claiming the wealth of a deceased Florentine aristocrat sends him to join other imposters in the eighth circle of hell.
"There are all of these fantasy elements that we get to have because of the animation technology," McCrory said. "In a way, we were able to do more. We were able to do different things than if we were in a regular theater. Because we're doing this with a green screen, we can put in all of these other elements, like we can have our faces in pictures and have a set that comes alive."
Animation started in September 2020, led by Bonitatis, Farquhar and Amrani. The student production manager, animation senior Anais Castellanos, said their team has been working feverishly to complete what is essentially a feature film-length animated project within an academic year.
After the initial designs are complete, every surface is textured and lit to make a dynamic image, Bonitatis said. They used a wide range of professional software from Adobe, Toon Boom and Autodesk to create 2-D and 3-D animations, Castellanos said.
"We're basically trying to do what every studio in Burbank has been doing for years," Castellanos said. "But each of them take four to seven years to create one film, and we're trying to manage the same in one year."
Acting in a Sea of Green
Combining the essence of a stage performance with a brand-new animated spectacle, singers still had to perform their roles to breathe life into the characters.
To maintain safety and follow social distancing guidelines, each actor had to apply their own makeup (with the assistance of theatre professor Elizabeth Cox via Zoom) before stepping on set. There, they filmed their own parts individually, filling in their scene partners' roles with their imagination and the helpful guidance of the production's director, professor Maurice Godin, and stage managers Cedes Sifuentes and Margaret Baxter.
Cox and fellow theatre professor Garry Lennon provided makeup and wardrobe help, respectively, sending makeup kits and costumes and to actors' homes prior to filming. CSUN theatre department lighting and sound shop supervisor Michael Ziegler supplied the green screens and lights.
The live-action footage was shot in 6K resolution, which allowed Amrani and his students to get medium shots and close-ups out of a single wider shot. That gives them more variety in compositions with fewer camera setups, and flexibility when merging the footage with the animated backgrounds, a process called compositing.
Last October, after the actors completed filming, Bonitatis said they began tests for rotoscoping, a technique in which animators trace over every frame of the live-action footage to reproduce its realistic motion in the animation.
Amrani, along with assistant editor Stephen Moreno '18 (Art), took the lead to string together the project on Adobe Premiere Pro, and later finished compositing on Nuke Studio and put the final touches on visual effects.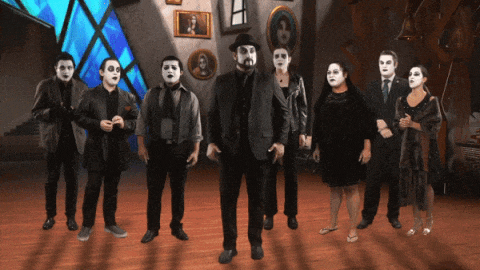 After nine months of working with hundreds of hours of footage and audio, the team behind "Gianni Schicchi" are excited to share the spellbinding audiovisual performance with their fellow Matadors and the wider community in May.
"We hope that the hard work from all of the faculty and students involved will shine brightly on everyone's screens upon its release," Amrani said.
Graduate student Dongmin Byeon, who plays Gianni Schicchi, said he's thrilled to see how the team's hard work will come together in May.
"This project is very significant because it has collaboration with many other departments, such as theatre and animation," Byeon said. "I was able to work with new people in a new environment, and they gave me a place to do some great creative thinking. This has become such a great memory that I will never forget."