From Armenia to the World: Alumna and Pianist Karine Poghosyan Performs for UN Dignitaries at Carnegie Hall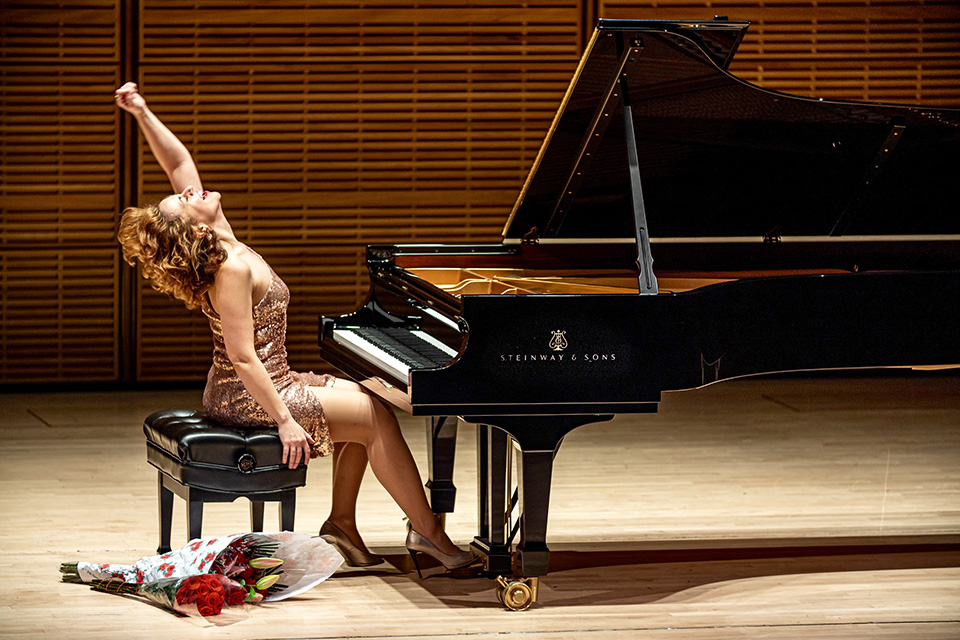 Photo courtesy of Karine Poghosyan
Rain, thunder and lightning filled the night sky but didn't deter hundreds of people from coming to Carnegie Hall in New York City on May 30. It marked one of Kariné Poghosyan's '03 (Music Keyboard/Piano Performance) proudest and happiest moments.
Inside the building, Poghosyan poured herself into her performance, titled 'Music of My Soul.'
Music has always been a part of Poghosyan's life. As a young girl, she was surrounded by classical music, the genre her mother and father were enamored with. One of her fondest memories as a child was watching old black-and-white footage of the legendary American pianist Van Cliburn perform Tchaikovsky's "Piano Concerto No. 1" on television.
"That was one of the first pieces that really just hit home," said Poghosyan. "I just watched it, and I was hooked. I thought I want to do that!"
At 7 years old, she attended School of Arts No. 1 in her hometown of Yerevan, Armenia. At the age of 14, she made her orchestral debut playing Beethoven's "Piano Concerto No. 1." In search of better opportunities — at a time when her country was undergoing war and tremendous economic hardships — Poghosyan and her family looked to the U.S. as the place where she could actualize her dream of being a classical pianist.
"My parents and I moved and basically closed the doors behind us, you can say, and came with very little in our pockets," said Poghosyan. "My parents wanted to do that for me."
California State University, Northridge served as the launching point for her career. Her dad had a friend who worked at CSUN and suggested she consider attending. She auditioned for the Department of Music and was accepted. Within months of starting her classes, she was winning competitions on campus.
Poghosyan credits much of her success to her mentor and former CSUN piano professor Françoise Regnat.
"From very early on she said, and made me feel like, there's something very, very, special in me — enough to push me really hard," said Poghosyan. "It was an amazing thing to have her nudging me and pushing me to go out there and try things."
Poghosyan moved to New York in 2003 — at the recommendation of Regnat — to attend Manhattan School of Music (MSM). With a car full of her belongings — including an upright piano — Poghosyan and her parents made the cross-country trek to the Big Apple. Poghosyan received her master's and a doctorate from MSM and became one of only a handful of people to complete a doctorate in two years. Her thesis focused on Aram Khachaturian — an Armenian composer and conductor.
New York became her new home and introduced her to connections and opportunities that helped her career skyrocket. By the age of 23, she was performing solo shows at Carnegie Hall. Her interest in Khachaturian inspired her first album, "Khachaturian Original Piano Works and Ballet Transcriptions." Her 2015 debut album was met with rave reviews, and was acclaimed by pianist, author and radio host David Dubal.
The Armenian Weekly quoted Dubal as saying: "She immersed herself in the piano music of Aram Khachaturian to such an extent that her performances have elevated the music to a higher sphere. I know this for certain as I have played many of these pieces and found details of inflection, rhythm, and technical prowess that I had not imagined the music possessed. This is an important debut recording and it brings to us in Kariné Poghosyan's work, a pianist that we should hear as soon as possible in recital or on disc. Khachaturian would be excited to hear his colorful works played with such idiomatic styling. This is Khachaturian playing that will not be rivaled!"
Poghosyan was honored to be mentioned by Dubal and to have such a positive response to her album.
"It's such a terrifying thing to put your very first commercial recording out there and it was a joy that was well received and the music is interesting," said Poghosyan. "It was just so humbling and so rewarding."
Her May 30 performance at Carnegie Hall was special. Not only was she presenting 'Music of My Soul' to a sold-out audience, but in the crowd were representatives of the Armenian community, officials from the United Nations (UN) Secretariat and delegates and ambassadors of the United Nations Member States.
Poghosyan currently resides in New York and teaches at Manhattan School of Music. She came home this spring to CSUN to perform in Cypress Recital Hall on March 3.
While she juggles a busy teaching and performance schedule, Poghosyan also is working on her sophomore album, "Rachmaninoff and Stravinsky." With a run-time of 75-plus minutes, she said she is excited for the world to hear the new album. Fans can expect the album to debut sometime toward the end of this year.
Known for her larger-than-life personality, soul-connecting music and extravagant dresses on stage, Poghosyan also is seen as a pioneer helping to "break the glass ceiling" for women in classical music.
"You have no idea how many times people say, 'Oh, that's man's music," said Poghosyan. "In other words, very muscular, very strong, very loud. Well, I'm not a man. Why should I not have the same opportunity to play it?"
Poghosyan said she hopes to build a bridge between the rest of the world and classical music and help unify the world — one note at a time.
"Today's world is in dire need of inspiration and of light and great music and great art provide that," said Poghosyan. "You listen to music and it just goes straight to your heart, and so I want to play incredible music and bring people together and show them that we're more alike than we are different. Dream big, go crazy and don't hold yourself back."