From Avian-Inspired Unmanned Aerial Vehicles to Pandemic Health Care, Students Showcase Research at Virtual CSUNposium
---
In searching for innovation inspiration, CSUN mechanical engineering students looked to the sky.
From their homes, a team of Matadors are hard at work researching, testing and building MataMorph-3, also called XM-3, an unmanned aerial vehicle (UAV) with wings and tail that morph, or slightly change shape, to allow the aircraft to adapt to a variety of flight conditions — like birds.
Birds "are able to increase their span, which increases their lift, or sweep [their wings] back to become more aerodynamic," said mechanical engineering senior James Kok, a member of the XM-3 team. "Having these morphing abilities makes them much more efficient animals."
From groundbreaking flight engineering to studies about the effects of COVID-19 on society, CSUN undergraduates and graduate students showed off their research through oral and poster presentations at the 25th annual Research and Creative Works Symposium, also known as the CSUNposium, on April 9.
The 2021 CSUNposium featured almost 400 students and represented every CSUN college with a poster and pitch, or a three- or 10-minute oral talk presented via Zoom, said Amy Levin, assistant vice president of graduate studies, who helped organize the event.
With work in the proposal and completed stages, students' research covered a wide variety of topics across disciplines, such as energy-efficient buildings in civil engineering, anime adaptations in Hollywood in cinema and television arts, ancient antibiotic resistance in biology, and many more.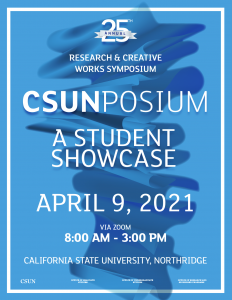 Among the many students who represented the College of Engineering and Computer Science, Kok and fellow mechanical engineering senior Luis Ferrusquilla, leads of the XM-3 team, presented their research on their morphing UAV in a 10-minute talk.
Aeronautics research, such as that conducted by CSUN students with the XM-3, aims to mimic the capabilities of birds to adjust during flight, "with the intent of making aircrafts more efficient in the same sense," Kok said.
Their presentation showed how the team considered updating the design of a number of the vehicle's components, including the fuselage and landing gear, to maintain optimal flight performance; however, "the camber-morphing wing and tail were the most novel ideas of our research," Ferrusquilla said.
Camber morphing, which involves bending a surface to make it more curved, was tested in the tail of the XM-3's predecessor, XM-2, designed by students last year. The tail's performance proved to have promising results compared to the twist-morphing wing, which led the XM-3 team to focus on camber morphing for both the wing and tail.
"Because of the bending, more surface area of the wing is perpendicular to the direction the wind is flowing," Ferrusquilla said. "This helps with the production of lift, which is a necessary force that helps keep the UAV or plane in the air."
The XM-2 also used a stretchable skin that wrinkled during lift. This year, the XM-3 team worked on making a skin to go over the morphing wings and tail, using a stiffer laminate carbon fiber that adds "rigidity against aerodynamic forces during flight, and a smooth, continuous surface for the air to flow over," Kok said.
The XM-3 team had the opportunity to put 3-D printed models of their designs through actuation tests in the wind tunnel testing facility located in Jacaranda Hall.
"This test proved two crucial aspects of our design," Ferrusquilla said. "First, the test showed that the skin was resistant to the applied aerodynamic loads and did not deform near the leading edge. And second, the test showed that the wing was capable of camber morphing with the applied aerodynamic loads, with speeds at about 40 meters per second. These results gave us confidence that the XM-3, or MataMorph-3, can be built in its entirety, and we can start to initiate test flights."
The next steps in their research, Ferrusquilla said, would be manufacturing the other components of the XM-3, assembling the vehicle and conducting full flight tests "to show that camber-morphing surfaces can actually fly."
A number of projects presented at the CSUNposium focused on how people have been affected by COVID-19.
Senior Michelle Alcantara, who is majoring in biotechnology and cell and molecular biology, examined the reasons older adults delayed seeking health care during the pandemic.
In her 10-minute oral presentation, Alcantara presented a brief background on the state of COVID-19 in the United States, noting the 338 million cases and more than 560,000 deaths as of the event. Within those numbers, Alcantara said, about one in five adults over age 65 delayed health care, with 57 percent of those instances leading to negative consequences, including increased morbidity, as a result of that delay.
Alcantara used data from a survey by the National Health and Aging Trends Study, which asked older adults whether or not they delayed health care and why they did, particularly focusing on those with poor health.
Statistical analysis showed that among the top reasons for delaying health care were that patients feared COVID infection from visiting a medical site, were unable to secure an appointment with their provider, and decided their health concerns could wait. Those in poor health, however, were statistically more likely to delay care due to fear of COVID infection than those in good health.
Alcantara said she hopes her research impacts policies that can address these reasons for delaying care and prevent further negative repercussions in the future.
"Unmet health care needs could be on the rise as a direct result of the pandemic, thus creating a magnitude of adverse consequences to overall health," Alcantara said. "It is essential for policymakers to address the adverse consequences of unmet needs for older adults as an important component of these strategies. Our findings for delayed care can inform policymakers of interventions that may fill the gap between good versus poor health in older adults."
Since having to pivot to a virtual program with a week's notice in 2020, associate professor Elizabeth Sussman and graduate studies administrative coordinator Wendy Brown-Danks carefully planned for the 2021 Zoom-based event.
"The students are also due a significant amount of credit for working so hard to modify their research plans in order to accommodate virtual data collection," Levin added.
"This year went off without a single flaw, thanks to [Sussman's and Brown-Danks'] meticulous planning," she said. "It was an incredible event, despite being all virtual. We look forward to 2022 being in person!"