Performance to Showcase Creative Collaborations By CSUN Dancers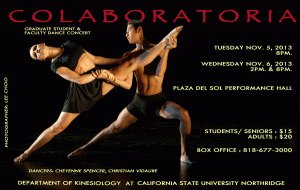 Spanning across different cultures and languages, dance does what words cannot: allow for communication between performer and audience by expressing the truest of emotions through movement. Because of that, the nature of dance is collaboration — between dancers and choreographers, dancers and music, dancers and the audience, and even dance science and art.
"Colaboratoria: Graduate Student and Faculty Dance Concert," sponsored by California State University, Northridge's Department of Kinesiology, will present diverse choreographic visions and passionate dancing on Tuesday, Nov. 5, at 8 p.m. and Wednesday, Nov. 6, at 2 p.m. and 8 p.m. in the Plaza Del Sol Performance Hall, located on the east side of the campus off Zelzah Avenue in the University Student Union.
The performers, Cal State Northridge graduate students and faculty, have strong backgrounds in dance. Many of them work with professional dance companies or in film and television.
"We have great dancers and choreographers at CSUN, and that's the fundamental reason for the concert — to showcase the talent at the university," said kinesiology professor Paula Thomson. "Because they are graduate students and faculty members, these dancers and choreographers have mature and sophisticated creative visions, and the dances are exquisite."
Tickets for the event are on sale for $15 for student and seniors and $20 for general admission. To obtain tickets, call (818) 677-2488.
For more information about the performance, contact Paula Thomson at (818) 677-7575 or paula.thomson@csun.edu.