Valley Pioneer Lecture to Explore Organizing Efforts by Oxnard Farm Workers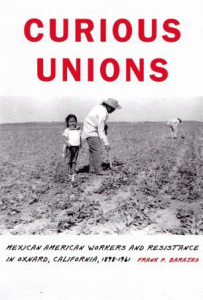 Frank P. Barajas, author of "Curious Unions: Mexican American Workers and Resistance in Oxnard, California in 1898-1961," will explore how the organizing efforts of early 20th century farm workers paved the way for community activism in the latter part of that century on Thursday, Nov. 7, at California State University, Northridge
Barajas, a history professor at California State University, Channel Islands, will give CSUN's fall Valley Pioneer Lecture at 7:30 p.m. in the Whitsett Room, Sierra Hall 451. Sierra Hall is located on the west side of the campus at 18111 Nordhoff St. in Northridge.
"We are extremely fortunate to have Professor Barajas coming to Northridge," said Josh Sides, CSUN's Whitsett Professor of California History, and director of the university's Center for Southern California Studies. "Not only is Professor Barajas an exceptional educator, he's a path-breaking scholar whose new book challenges conventional views about farm workers before the golden age of the United Farm Workers in the 1960s. Specifically, he shows how active the farm workers in Oxnard were prior to the arrival of César Chávez, and how creative they were in working with multiethnic populations in that region."
Barajas' book, "Curious Unions," documents how the Mexican community forged intriguing partnerships with other ethic groups within Oxnard in the first half of the 20th century and examines the resulting economic exchanges, cultural practices and labor and community activism. He explores how the Oxnard ethnic Mexican population built alliances with other groups and organizations to meet their needs.
In his book, Barajas notes that César Chávez visited Oxnard in 1958 as the organizer of the Community Service Organization to support the unionization campaign of the United Packinghouse Workers of America. Together, the two groups challenged the agricultural industry's use of braceros, imported contract laborers who displaced resident farm workers.
Copies of Barajas' book will be available for purchase of at the event. A reception will follow the lecture.
The Valley Pioneer Lecture is an annual series hosted by Cal State Northridge's Department of History, offered through the W.P. Whitsett Endowment, that explores topics of current interest to the community.
The lecture is free and open to the public, though reservations are required. To make a reservation, please call the Department of History at (818) 677-3566. Parking is $6 and permits are available at the information booth on Prairie Street near Darby Avenue.
For more information about the lecture, visit the Department of History's webpage at http://www.csun.edu/csbs/departments/history/index.html.