Student Begins Freshman Year as CSUN's First Ella Fitzgerald Memorial Scholar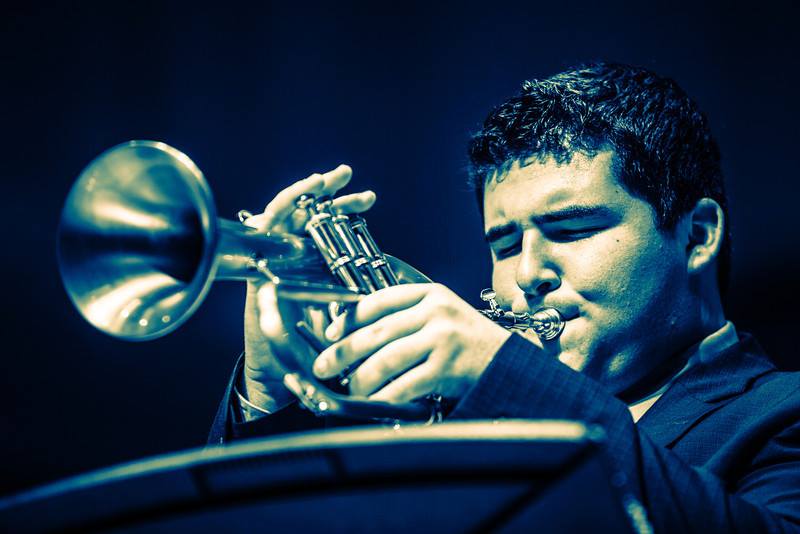 Michael Gutierrez has been named CSUN's first Ella Fitzgerald Memorial Scholar in Jazz Studies. Photo courtesy of the Mike Curb College of Arts, Media and Communication.
Trumpeter Michael Gutierrez is starting his freshman year at California State University, Northridge as CSUN's first Ella Fitzgerald Memorial Scholar in Jazz Studies.
The honor includes a $5,000 scholarship for the 17-year-old Clovis native from the Ella Fitzgerald Charitable Foundation, which was founded by the legendary "First Lady of Song" as a way to use the fruits of her success to help others. Gutierrez will receive $5,000 each academic year for two years, with the opportunity to reapply at the end of that term.
"It's really quite an honor to be the first Ella Fitzgerald Scholarship recipient," Gutierrez said. "It means a lot less stress and makes life a lot easier as I start out in college."
Music professor Gary Pratt, head of CSUN's acclaimed jazz studies program, called Gutierrez "an extremely talented young man" who deserved the honor.
"He is one of the finest young gentlemen that I have had the pleasure of meeting," said Pratt, a nationally respected jazz artist and educator. "I go out to a lot of schools, and Michael distinguished himself immediately. He has so much enthusiasm and commitment to becoming a better musician. He is certainly one of the spotlighted young artists on the scene, and it is a great pleasure to have him here with us."
Gutierrez said he discovered jazz in school when a teacher played some music in class. From there, he developed a passion for the jazz-funk band Tower of Power — the horn section in particular — and was inspired to pick up the trumpet in seventh grade.
He was a member of his high school's marching band, wind ensemble, symphony orchestra and jazz ensemble. As a member of the high school's jazz ensemble, he performed at the Delta City Jazz Festival, San Joaquin Jazz Festival and the Monterey Next Generation Jazz Festival, where earlier this year he won the award for outstanding soloist.
Earlier this year, Gutierrez was selected to play in the GRAMMY Camp-Jazz Session and invited to attend the 56th annual Grammy Awards show and perform at the after party. He has played at the Monterey Jazz Festival in Noto and the Tomisato Jazz Festival, and has given performances in Nagoya and Tokyo, Japan.
Gutierrez said he was excited to start his university studies in CSUN's jazz program.
"It's one of the most fantastic programs in the country," he said. "I had my first big band rehearsal yesterday and it was…wow! It was a lot of fun. I am looking forward to my lessons here."
Pratt noted that the generosity of the Ella Fitzgerald Charitable Foundation and its executive director, Fran Morris Rosman, provide the opportunity for Gutierrez to pursue his music dreams at CSUN.
"We are really grateful to Fran Morris Rosman for working with us and are looking forward to further projects with her," he said.
The Ella Fitzgerald Charitable Foundation was created and funded in 1993 by jazz great Ella Fitzgerald to fulfill her desires to use her success to help people of all races, cultures and beliefs. Fitzgerald hoped to make their lives more rewarding, and she wanted to foster a love of reading, as well as a love of music. In addition, she hoped to provide assistance to at-risk and disadvantaged members of the community.
The CSUN jazz program offers a progressive and innovative course curriculum spanning improvisation, theory, technique, history and performance. Working with top professionals from the very beginning of their college experience, students can take advantage of CSUN's location in a hub of the music industry by attending clinics and concerts. The program also offers a range of ensembles, providing students with unparalleled performance experience. These include the Jazz "A" Big Band, which holds a record for first-place awards at the Pacific Coast Collegiate Jazz Festival and regularly performs at the nation's top jazz events, including four consecutive invitations to the Monterey Jazz Festival.