World-Renowned Conceptual Artist and CSUN Alumna Betty Beaumont Provokes Imagination
Art is central to CSUN alumna Betty Beaumont's life.
For five decades, the dynamic visionary and world-renowned conceptual artist has produced works that tell a story about who she is, and at the same time has galvanized reflection about the environment and how humans impact the world they live in.
After earning her degree from what was then San Fernando Valley State College (now CSUN) in 1969 (Art), Beaumont has inspired thought through a variety of her own expression, including sculpture, photography, installations, public interventions, and new media.
Her work has been shown in museums and galleries across the globe — in Egypt, Japan, Cuba, France, her home city New York; and she has received prestigious awards, grants and fellowships. Also an alumna of the University of California, Berkeley — earning a master's degree in Design in 1972 — Beaumont was recognized by its College of Environmental Design as a Distinguished Alumna in 2006.
One of Beaumont's most notable works, "Ocean Landmark," is a monumental artistic achievement inspired by her curiosity about where electricity comes from and where waste goes, and it was researched for a year before work commenced. The sculpture, realized in 1980, is made of 17,000 coal-ash blocks and lives on the floor of the Atlantic Ocean 40 miles off the coast of New York Harbor. The sculpture, which also involved the work of scientists and engineers, weighs 500 tons and has developed a productive ecosystem that is fished and feeds people.
"Artists generally make work about their time. During my time — since the late '60s through our present pandemic — my work is marked by deep-seeded social and ecological concerns," Beaumont said. "The work asks questions, provokes imagination, and presents new paradigms for thought and meaning."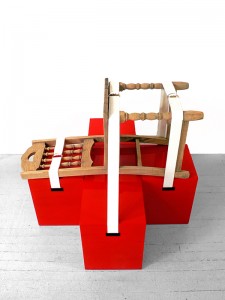 Beaumont was born in Toronto but grew up in the Los Angeles area. Proximity brought her to CSUN. An early interest in photography, design and sculpture helped her decide to pursue a degree in art.
But it was through an Anthropology professor that Beaumont had one of her most memorable and inspiring moments as a CSUN student.
Beaumont went on a field trip with professor Wesley Bliss to the Hopi Tribe Reservation in Arizona in June 1969 before her final semester at the university. It was there that she saw how the indigenous people respected the land and its resources.
"Being on the edge of the mesas was a spiritual experience for me," Beaumont said. "Observing Hopi lifestyle gave me great respect for living in harmony with the environment."
This moment in our world has propelled Beaumont to continue to create. A dozen artworks — produced in solitude — metaphorically signify social, racial, ethnic, cultural and political issues gripping our world utilizing items such as chairs, metal, felt fabric and for one work, a recycled brass baritone horn. With galleries closed due to the pandemic, these works, including "Tête-à-Tête," "Wands of the Lake," "Red Cross," "Nature Culture Homage" and "What Will the Future Hold," await an opportunity to be exhibited. They are currently in Beaumont's New York City studio.
Prior to the pandemic, Beaumont was working in her studio with assistants on a project that began five years ago called "Language Legacies: Landscapes of Consciousness."
Beaumont has collected more than 400 audio recordings of songs in dormant languages from various archives, anthropologists and linguists. These recordings will be incorporated into sound towers as part of innovative and culturally significant, geometric configured art installations. She will also consult and collaborate with members of these cultural groups so they are active participants.
"Language is integral to identity. It provides the lens through which people perceive and explain their worlds. Hearing dormant languages points to the importance of indigenous languages and cultures, and increases awareness of the crucial global issue of language loss and cultural homogenization," Beaumont said. "Of the 6,000-odd languages spoken in the world, half are not being taught to children today. With one language disappearing every two weeks, half of humanity's intellectual, social, and spiritual legacy is slipping away. This installation uses new technologies to disseminate these voices—preserving the recordings of these languages while challenging the viewer to question the importance of these and their own native languages."
Once Beaumont is able to open her studio again to bring in assistants, work will continue on "Language Legacies." In the meantime, she continues to fundraise for this global human story experienced through songs of people living on earth.
Over the years, Beaumont's work has been appreciated in books, articles and dissertations. She has taught at the University of California at Berkeley, The School of the Art Institute of Chicago, SUNY, Purchase (where she was awarded the 1989 Professor of the Year Award), Hunter College, New York University, and at Columbia University in the Graduate School of Architecture. She founded the non-profit arts organization Art Research Collaboration, Inc. to support ideas, the creation of artworks, exhibitions of contemporary art, and publications. She continues to be inspired and inspire others.
"I would like my legacy to be my body of artworks created thus far over five decades with an evolving interdisciplinary and socially engaged art practice firmly grounded in the art world, informed by the human condition and societies' interactions with nature, contributing in some small way to expanding the experience of art while reflecting the world around us," Beaumont said.