CSUN Women's Soccer Wins Big West Title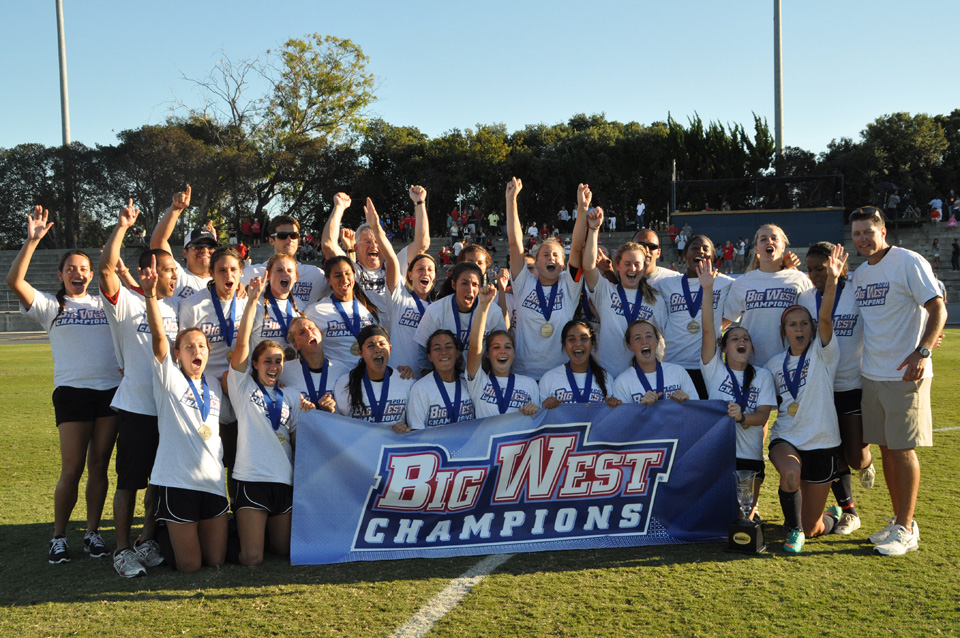 The CSUN women's soccer team celebrates its Big West league championship.
Since their introduction into the Big West Conference in 2001, the CSUN women's soccer team has had winning records and playoff appearances. But on Sunday, this year's squad did something they—or any other previous group—hadn't before. They were able to raise the Big West Championship trophy after beating Cal State Fullerton in overtime, 1-0.
"I'm so proud of these young ladies," CSUN head coach Keith West said after the game. "We started this journey a long time ago… and I think we had something special this year."
Senior Midfielder Melissa Fernandez was the hero of the game, knocking in the winning golden goal in the second minute of overtime after senior Forward Marisa Miller hit her with a pass in the box. This was after 92 minutes of tense, scoreless action on the pitch in Fullerton.
Another senior who showed up was no surprise – goalkeeper Cynthia Jacobo. She continued her fantastic season, blocking a Titans' penalty kick in the 54th minute. She improved her record on the season to 11-4-6, and kept her amazing stats at 0.46 goals-against-average, 105 saves and a .913 save percentage.
The team's next goal will be to knock off their future Big West foe, San Diego State in the opening round of their first trip to the NCAA Championships on Saturday, Nov. 10.
"We are excited to be playing in our first-ever NCAA Tournament and look forward to the challenge that Saturday will present," West said.
For more: CSUN to Face Future Big West Foe San Diego State in NCAA Opening Round [GoMatadors.com]