CSUN Celebrates Opening of Pride Center as a Resource for LGBTQ Community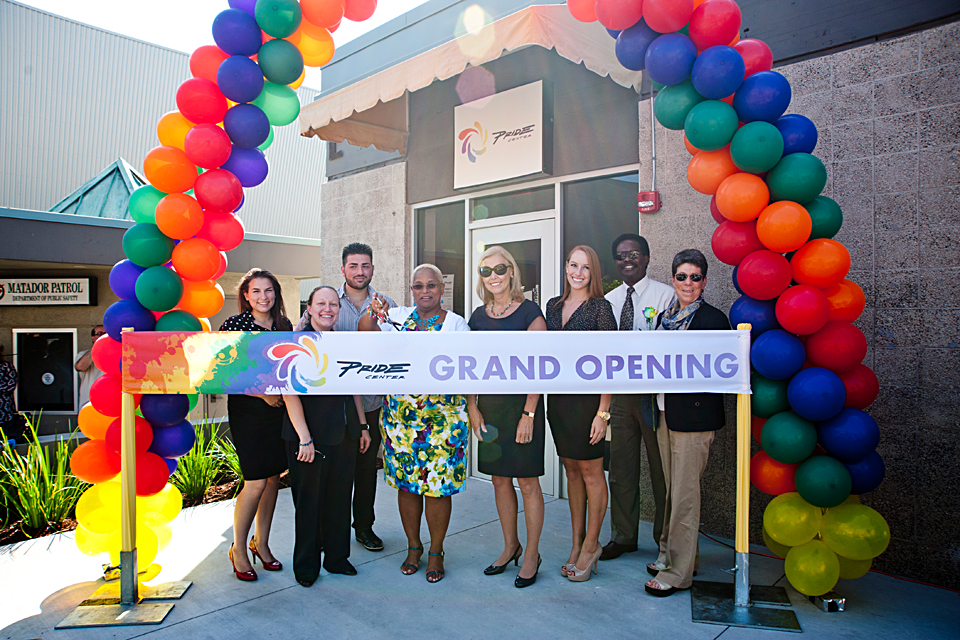 Officials prepare to cut the ribbon in celebration of the opening of CSUN's new Pride Center. From left: Karlee Johnson, student LGBTQ leader; Sarina Loeb, coordinator of the Pride Center and LGBTQ Initiatives; Arutyun "Art" Ambarysumyan, president of LGBT Alliance; Debra Hammond, executive director of the University Student Union; CSUN President Dianne F. Harrison; Sabrina Lockey, chair of the USU Board of Directors; William Watkins, vice president of student affairs and dean of students; and Ronni Sanlo, retired director of the UCLA LGBTQ Center. Photo by Lee Choo.
For the last three years, California State University, Northridge English and queer studies professor Martin Pousson's eighth floor office in Sierra Tower served as a home base for lesbian, gay, bisexual, transgender and questioning students.
They would gather in the cramped space to talk about issues of the day or get advice. It even became the student-deemed headquarters for the Queer Ambassadors, a collaboration of queer student-oriented clubs on campus, adding a file cabinet to the limited space and utilizing the door as a billboard.
"The students created a forum in 2009 that exposed the lack of resources and support for this community on campus," Pousson said. "There was no regular safe space for students in this community."
Thanks to the efforts of Pousson, student leaders and other supporters, LGBTQ students have a new refuge on-campus. The Pride Center was opened with funds from the University Student Union and the Campus Quality Fee.
The university celebrated the grand opening of the Pride Center on Thursday, Sept. 27 with a host of speakers. Attendees were given rainbow roses to place at the base of the bronze Matador Statue to commemorate the day. An LGBTQ Resource Fair was held in the Plaza del Sol, highlighting the numerous resources available to students at the center and on campus.
The center is located in the University Student Union between the computer lab and the Student Recreation Center (SRC). It is a comfortable space with couches, chairs, a widescreen television and cable. Students can access an array of resources, including an LGBTQ library, two computers, the LGBTQ Peer Mentor Program for student support and the CSUN Ally Project, which provides awareness training and support for individuals and offices in support of LGBTQ students.
"The opening of the Pride Center is a monumental triumph for students and a historic moment for CSUN," said Sarina Loeb, coordinator for Pride Center and LGBTQ Initiatives. "Only a handful of CSUs have a LGBTQ center, and most do not have a full-time coordinator. CSUN can pave the way in providing outreach and support for LGBTQ students."
CSUN joins the ranks of a handful of other CSUs with campus centers that provide support to their LGBTQ communities. Cal State San Luis Obispo, Pomona and San Marcos also have similar facilities on campus.
"As a certified sex educator and someone who formerly taught for years in the field, I am well aware of the issues and challenges young people have dealing with sexual orientation and gender," said President Dianne F. Harrison, at the grand opening. "I am very pleased and proud that the Pride Center is here to serve our current students and those who will be served in the future."
Karlee Johnson, a graduating senior who has spent the last two years advocating for the center, is thrilled about the opening.
"Above everything else, the main benefit of having a (LGBTQ) resource center on campus is a certified safe space for our queer students and community members," Johnson said. "I can't feel anything but pride, excitement and accomplishment for the opening of the center.  This has been a long time coming, and it's actually kind of hard to believe that something we dedicated so much time and energy to is coming to fruition."
The Pride Center is open Monday through Friday from 10 a.m. to 7 p.m. For more information, visit www.pride.csun.edu.