CSUN President Erika D. Beck Featured in LA Times DEIA Leadership Forum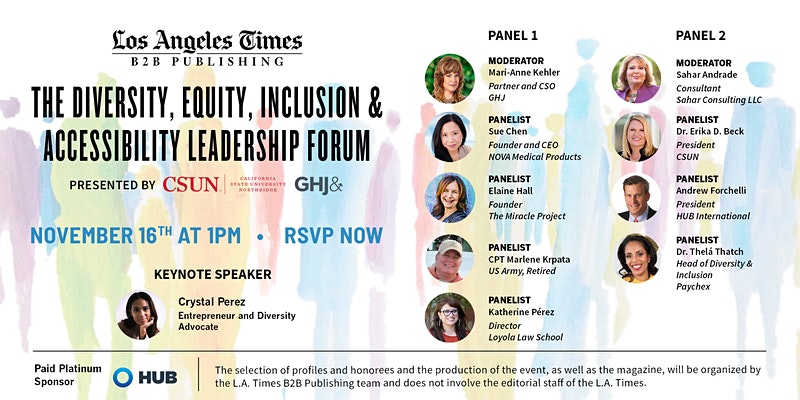 CSUN President Erika D. Beck joined other diversity, equity, inclusion and accessibility thought leaders on Nov. 16 for an in-depth discussion on inclusive leadership and disability inclusion in the workplace.
The Diversity, Equity, Inclusion & Accessibility Leadership Forum, sponsored by the Los Angeles Times B2B Publishing, featured business leaders from across Southern California who have been recognized for their dedication to equality and advocacy in the workplace.
Speaking in the forum's second panel, Beck noted that inclusive leadership is at the heart of what is needed for society to realize a better future.
"When inclusive leadership is at its finest, I find that it frames what really matters and it can be found in the marrow or the DNA of an organization," she said.
Recently, CSUN has been ranked as the third-most diverse learning environment in the nation by The Wall Street Journal/Times Higher Education 2022 College Rankings. This is the sixth consecutive year that CSUN has been named to the top three in the WSJ/THE rankings. The university also ranked second in the nation in awarding bachelor's degrees to Hispanic students by The Hispanic Outlook on Education magazine.
Other panelists included Sue Chen, founder and chief executive officer of NOVA Medical Products; Andrew Forchelli, Los Angeles regional leader and president for ​national entertainment and sport practice ​at HUB International; and Thela Thatch, head of diversity and inclusion at Paychex.