Native American Heritage Month: Indigenous Students Lead the Way
Native American, Indigenous, American Indian, Indigenous Mexican or simply: Native. These are terms currently used to describe the First Peoples of this land, and those who lived across North America for generations before Europeans and others first set foot on our shores. Today, the descendants of those First Peoples proudly carry forward their traditions.
The CSUN campus today is located on Sesevenga, which is the unceded territory of the Fernandeño Tataviam Band of Mission Indians, the historic tribe of northern Los Angeles County (whose ancestral lands include the modern-day San Fernando, Santa Clarita and Antelope Valleys). Neighboring the Tataviams are the Tongvas, who lived and traveled across the entire Los Angeles Basin and the Southern Channel Islands, and whose ancestral lands cover more than 4,000 square miles.
In honor of Native American History Month, which runs from Nov. 1- 30 (National Native American Heritage Month), we interviewed five CSUN students about what it means to be Indigenous in 2022, and how they carry on their elders' legacies.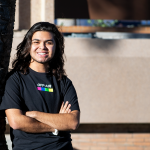 Ethan Molina, 18, Huichol/Chicano: Molina, a first-year Chicana/o studies student, identified himself as Mexican growing up. With an inquisitive nature at age 6, he knew that he was not European, Asian or African. His parents explained, "We're from the Americas. We're from North America." Knowing that he had Indigenous roots, it wasn't until COVID-19 that he began to deeply understand the history of Mexico before its European conquests. With roots in what is now the Mexican state of Jalisco, he emphasizes the importance of the land.
"The land was here, always. The land never had dividers," Molina said. "There wasn't even an unnatural border, [unlike how] a river [is a natural border]. So I would [say] that the land was here before the borders were."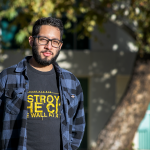 Michael Meneses, 23, Mestizo/Central American: Raised by a Guatemalan mother, Meneses noted the racial and genocidal aspects of identifying as Indigenous that his mother had to face during her youth.
"The 1980s in Guatemala was [a time] of revolutions, where the government was especially targeting indigenous communities and labeling them as the opposition," Meneses said.
While the fifth-year urban studies and planning student is still exploring his Indigenous roots, he credited his CSUN undergraduate experience as the gateway to his ethnic exploration.
"If it wasn't for me coming to college, I wouldn't know that the name of the community that my mom comes from is Kaqchikel," he said.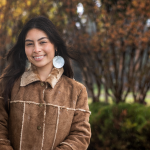 Alexandria Ybarra, 22, Tongva/Chumash/Xicana: President of the campus' American Indian Student Association (AISA), Ybarra is at the forefront of the CSUN Indigenous community. The fourth-year interdisciplinary studies student (with an emphasis on American Indian studies and sustainability) has encouraged her fellow Matadors to connect with the Tongva people.
"We took a day trip to Pimu (Catalina Island) to support and connect with local Tongva artists, last month, with a group of eight students and our faculty advisor," she said.
To honor this month, Ybarra encourages students to attend AISA events, including the Annual CSUN Powwow, which will take place on Saturday, Nov. 26.
"AISA also has multiple workshops and speaker series planned along with our annual powwow, where Native artists will have space to share their work to celebrate Native American Heritage Month. Being an Urban Native, it's so important we find our community, empower each other, learn from one another and ultimately create space for ourselves in an institutional setting."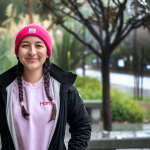 Emma Perez, 18, Mestiza/Mexican American: Perez, a first-year journalism/public relations student, hopes to further explore her roots, which she believes are Aztec. She noted that Indigenous peoples are often culturally appropriated in society.
"The main issue [with] cultural appropriation is that a lot of people think that they're honoring, but it plays into romanticizing Indigenous culture."
An example Perez gave is Dia de los Muertos (Day of the Dead), a highly-regarded Mexican holiday honoring loved ones who have passed. With the holiday being so close to Halloween, people may paint their faces to closely resemble the sugar-skull makeup tradition without realizing the implications of taking a lighthearted approach to a serious and deeply-rooted holiday.
When reflecting on American media and history, Perez said, she has learned through the history of colonizing the ways in which Indigenous peoples are portrayed as exotic.
"The way that sports mascots are used, Native jewelry, Native clothing, even Native blankets — [they] all seem [to be promoted as] this exotic thing," Perez said.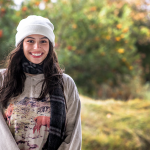 Ciara Green, 20, Tongva/Apache/Cherokee/Mexican American: Green, a third-year art student, takes pride in being Indigenous. She gives some credit for her pride to the relatively new celebration of Indigenous People's Day (formerly known as Columbus Day) in October, in California and across many parts of North America.
Green noted the violence and atrocities Christopher Columbus and his expedition committed after arriving on this continent's shores and setting out to colonizing Indigenous people. Students of all ages should learn the true history — along with the full story of the strong, continued presence of Indigenous peoples in North America, in order to move forward, Green said.
"Students should take time to support Indigenous businesses, Native businesses," she said. "Know that we are still here, know that the land [we] walk on is Native land. Listen to Native voices and how we see the environment."