CSUN Helps Sponsor First Statewide Student Leadership Conference for CSU, UC and Community College Students
For the first time in state history, student leaders in California's three tiers of higher education — the California State University (CSU), University of California (UC) and California Community College (CCC) systems — are teaming up to hold a statewide student leadership conference. The inaugural California Student Leadership Conference, "Rise Up!" is scheduled to take place online on Oct. 16-17. CSUN is a founding sponsor.
The free, two-day virtual conference will gather students from CSU, UC and CCC campuses to collectively explore and examine critical and multifaceted topics impacting college campuses and the nation.
The gathering aims to be a catalyst for dialogue, inspiration, connection and action, according to organizers. The theme, "Rise Up!" embodies the resilience and hope sewn in the fabric of higher education — as well as the community spirit and commitment to find solutions for the overwhelming challenges facing students and the nation at large.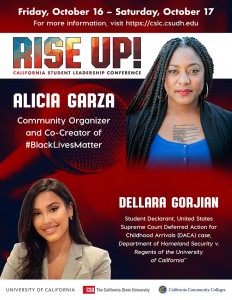 The keynote speakers will be UC San Diego alumna Alicia Garza '02 and Cal State Long Beach and UCLA Law alumna Dellara Gorjian '17. Garza is a community organizer and co-creator of the hashtag that swelled into a movement: #BlackLivesMatter. Garza is an internationally recognized organizer, writer and public speaker. In 2018, she founded the Black Futures Lab, an organization that designs new ways to build Black political power in cities and states.
Gorjian emigrated from Canada to Southern California with her family when she was 5 years old and is among the estimated 800,000 DACA recipients who would face deportation if the program is rescinded. DACA (Deferred Action for Childhood Arrivals) was enacted in 2012 by President Barack Obama, to provide protections for young undocumented immigrants brought to the U.S. as children.
Gorjian played a prominent role in the UC's successful Supreme Court challenge to the Trump administration's effort to dismantle the program. She submitted a declaration as part of the lawsuit, Department of Homeland Security v. Regents of the University of California.
Few students and fewer Californians know that the state is home to a unique, public, three-tiered education system that was codified in the state Constitution in 1960:
The CCC system includes 110 colleges in 72 community college districts across the state. The system educates a whopping 2.9 million students statewide and provides students with the first two years of a four-year university's coursework, according to nonprofit Study California.
The UC system includes 10 campuses, educates more than 200,000 students, and is often regarded as one of the top public university systems in the world.
The CSU, one of the largest public university systems in the nation, includes 23 campuses and more than 400,000 students. Approximately half of the bachelor's degrees and a third of the master's degrees awarded each year in California are from CSU.
"Rise Up!" conference registration is limited to currently enrolled college students from CSU, UC and CCC campus. A few sponsor campuses also have a limited number of faculty and staff member registrations. All eligible conference attendees must register using their campus email.
To register and learn more, go to https://cslc.csudh.edu/registration/.