CSUN Receives Additional $6 Million for David Nazarian College of Business and Economics Campaign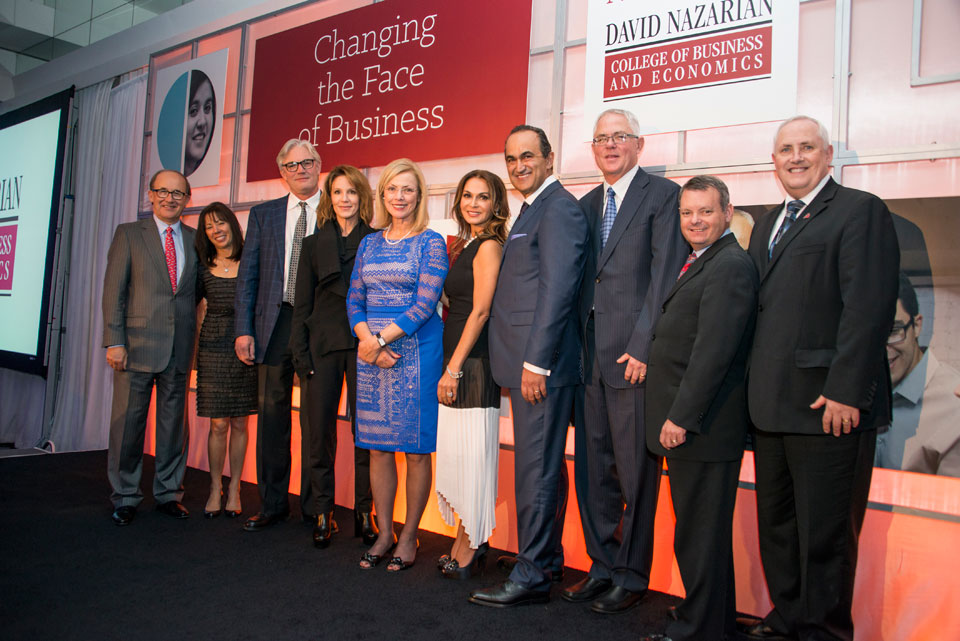 Celebrating the additional gifts to the Nazarian campaign are, from left, Charles Noski and his wife, Lisa, Paul Jennings and his wife, Adrienne, CSUN President Dianne F. Harrison, Angella and David Nazarian; Ken Floyd, Richard Schweitzer and Nazarian College Dean Kenneth Lord. Photo by Lee Choo.
California State University, Northridge President Dianne F. Harrison and visionary businessman and CSUN alumnus David Nazarian have announced an additional $6 million in gifts toward a $25 million fundraising campaign, launched this past spring with Nazarian's personal gift of $10 million to support his alma mater and the David Nazarian College of Business and Economics. This brings the total committed to date to $16 million.
Among the newest benefactors, all CSUN alumni, are retired Chief Financial Officer for Bank of America and AT&T Charles Noski and his wife, Lisa; Chief Executive Officer and Founding Partner of Public Communications Services Paul Jennings and his wife, Adrienne; retired Artissimo Holdings Chief Executive Officer and co-founder Ken Floyd and his wife, Ana; and Chief Financial Officer and Chief Risk Officer for Aristotle Capital Management Richard Schweitzer and his wife, Julie.
Harrison hailed the new gifts as affirmation of the important role CSUN and the Nazarian College play in the region.
"All this is part of our ongoing elevation of the people, culture and economy of Los Angeles," she said. "We are rising at a faster pace than ever before, and central to that is the David Nazarian College of Business and Economics. The college's plans for the future have the potential to raise business education to a new level."
The new gifts were announced at a special event last night.
The campaign to support the Nazarian College, so named by the CSU Board of Trustees to honor Nazarian's commitment to the university and its students, began in March with a $10 million cash gift from Nazarian and his wife, Angella. Already among the top 10 largest business programs in the nation — with a diverse population that reflects the demographics of California — the Nazarian College will focus the new funding on expanding its resources and providing its students, faculty and alumni with access to an array of innovative educational programs and experiences.
Nazarian, known for his investing acumen, said it was important to invest in a strong public university.
"If there is one factor that I would say is a leading contributor to the health and progress of society, it would be the strength of the middle class," he said. "A large middle class lowers inequality and brings more stability to a society. Now, what is essential in creating opportunities for mobility in the middle class is education. When we talk about education, we're really discussing access to affordable and quality education — the type of education I found at CSUN."
"This is one of the biggest reasons why I wanted to invest in CSUN," he continued. "The student population of this school holds the key — CSUN serves more than 40,000 students every year, out of which 55 percent are female and close to 75 percent are either minorities or from varying ethnic backgrounds. As you can see, CSUN is counted as one of the most diverse campuses in the nation, where 49 percent of the students are also from low-income families. Yet, findings show that CSUN students exceed expectations in graduation rates and later in alumni earnings."
Nazarian's history as a visionary investor and business builder began with his active involvement in his family's early identification of the potential for wireless communication technology, which ultimately became part of Qualcomm Inc., one of the most successful corporations in the history of the telecommunications industry. Since then, Nazarian, who graduated from CSUN in 1982, has focused on investment opportunities that diversified his family's holdings, including real estate and the hotel industry.
Nazarian College Dean Kenneth Lord called the latest gifts "transformative."
"These gifts, and those from many others who have contributed to the college, are ensuring students' ascendency toward their future," Lord said. "Thanks to our donors' generosity and foresight, we are poised to make the changes that will transform the education business students receive, and influence how they will lead the world's economy."
Among the changes taking place in CSUN's business college are the addition of state-of-the-art hardware and software for the analysis and trading of equities, currencies and other tradable instruments, and upgrades to facilities and laboratories for consumer and focus-group research. A variety of other additions include enhanced career-education and professional development services.
The David Nazarian College of Business and Economics serves more than 6,000 undergraduates with a full range of business programs. The Nazarian College also offers a Master of Business Administration program and specialized Master of Science programs in accountancy and taxation. The college is recognized for excellence by multiple external organizations. Its accreditation by AACSB International places it among the top 5 percent of global business degree-granting institutions.
Ranked by U.S. News and World Report among the best part-time MBA programs for three consecutive years, the CSUN MBA stands second among the 23 universities in the California State University system. The college has been recognized in Princeton Review's list of Best Business Schools for the past seven years. Its recently launched undergraduate curriculum in financial planning immediately acquired national acclaim and has been cited over the past two years as one of the "great schools for future financial planners" by Financial Planning Magazine.
Serving more than 40,000 students each year, CSUN is one of the largest universities in the United States. CSUN ranks 16th in the country in awarding bachelor's degrees to underrepresented minority students, fifth nationally in awarding master's degrees to Hispanic students, and enrolls the largest number of deaf and hard-of-hearing students of any U.S. state university. CSUN's 171 academic programs and engaged centers enjoy international recognition for excellence. CSUN currently partners with more than 100 institutions of higher education in 22 countries around the globe and attracts the largest international student population of any U.S. master's-level institution. The university is recognized for the opportunities it provides students to climb up the social and economic ladder. CSUN was recently ranked as the fifth-best university in the country for enhancing the social mobility of its students, in a study by Payscale and College Net, and Money Magazine called CSUN one of the "Top Ten Best Values" in the country.