CSUN to Celebrate Transgender Students with Trans* Awareness Week
California State University, Northridge will celebrate the transgender community during Trans* Awareness Week (TAW), from Monday, Nov. 16, to Thursday, Nov. 19, at the university.
The week's events will explore transgender identity and experiences through comedy, film, dynamic discussions, and talent and fashion shows. Most events are free and open to the public, such as the Trans* 101 education session, TRANSform Domestic Violence workshop, the student VarieT* Show and the Trans* Resource Fair.
Janet Mock, one of America's most visible and influential Trans* women, will start off the week with a lecture, "Redefining Realness," at 4 p.m. on Monday, Nov. 16, in Northridge Center at the University Student Union (USU) on the east side of the campus at 18111 Nordhoff St. in Northridge.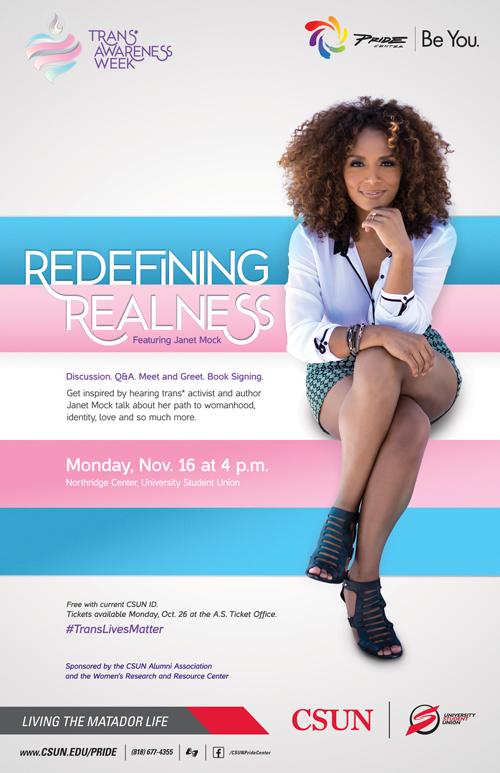 Mock will discuss her self-realization, her life as a transgender woman, her New York Times-bestselling memoir, "Redefining Realness," and her work as a writer, media professional, cultural critic and advocate for the Trans* community. Tickets to Mock's lecture are not open to the public, but students can bring in one guest when they pick up their ticket from the Associated Students ticket office located in the USU.
CSUN first celebrated TAW in 2011, one year before the campus established the Pride Center, a safe space for LGBTQ students.
Center coordinator Sarina Loeb said TAW is important because there still is a need for continuous awareness and visibility for the Trans* community.
"As a society we are more understanding with gay and lesbian issues, and somewhat with bisexual issues, but Trans* issues are not as talked about," Loeb said. "There is more visibility in media and more and more people are starting to understand, but we need to continue to bring visibility and [as an educational institution] educate students, faculty and staff."
Attendees can learn Trans* literacy — how to use appropriate terminology when addressing Trans* people and learning more in depth about Trans* issues — on Thursday, Nov. 19, at Trans* 101 from 12 to 1:30 p.m. at the Flintridge Room at the USU, and at the Trans* Resource Fair from 11 a.m. to 2 p.m. at the Plaza del Sol at the USU.
CSUN students and community performers will showcase their talent at the VarieT* Show on 6:30 to 9 p.m. Tuesday, Nov. 17. Attendees can enjoy music, dance and spoken poetry by poet Ollie Schminkey, who identifies as non-binary.
The week will end with Transgender Remembrance Ceremony from 7 to 9:30 p.m. on Thursday, Nov. 19, in the Flintridge Room in the USU, honoring Trans* individuals whose lives were lost from homicide or suicide in the past year.
CSUN sophomore Tyler Neroes, a Trans* student who helped coordinate the event, said that TAW is a chance for Trans* students to be recognized.
"As a student, it's important that my voice be heard," Neroes said. "Other trans students to know they aren't alone and that the "T" in "LGBT" isn't silent."
For a full list of events, visit www.csun.edu/pride/taw.