CSUN Fellows Share Research at Fourth Annual Colloquium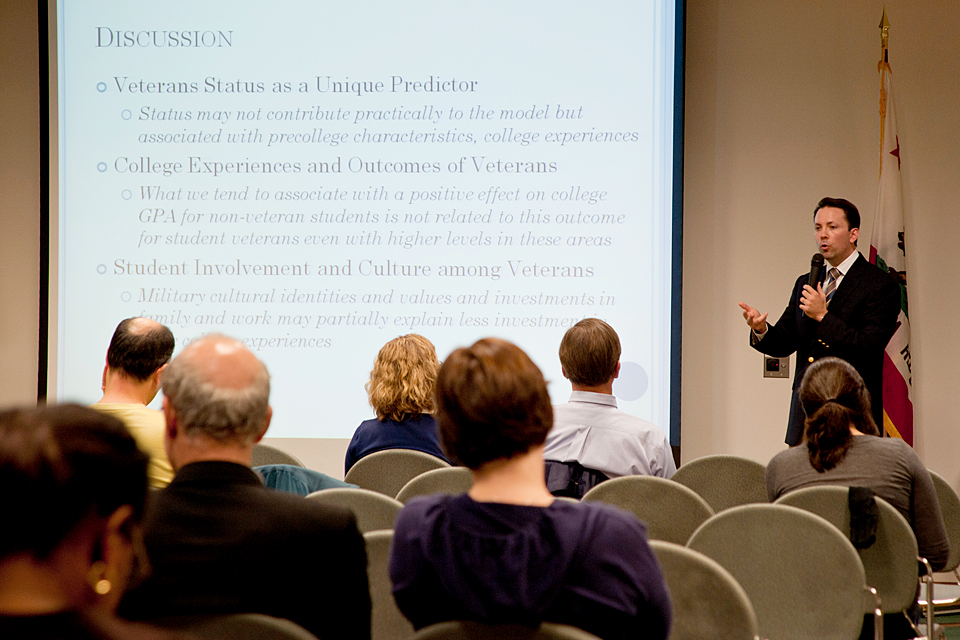 Research Fellow Nathan Durdella presents his research at last year's Third Annual Colloquium.
Florence Kyomugisha, associate professor of gender and women's studies, was born and raised in Uganda, a place where "one out of seven children never reach the age of 5." It has always been her life's mission to help her people back home. With the assistance of California State University, Northridge's research fellowship, she was able to continue her work at the Holy Innocents Children's Hospital in Mbarara, as well as continue teaching preventative health practices and sustainable living to women in Uganda.
Kyomugisha is one of seven faculty members who will be presenting at the 4th Annual Research Fellows Colloquium Wednesday, Oct. 17 from 2 to 4 p.m. in the Delmar T. Oviatt Library's Jack and Florence Ferman Presentation Room.
The Research Fellows program was founded in 2007 and is funded collaboratively by the CSUN Office of the Provost, the university's colleges and the Oviatt Library. It is a competitive program, available to all tenured and tenure-tracked faculty. Selected fellows are given the opportunity to pursue and conduct fascinating research or creative works during the school year.
"The (research fellows) program is important because it allows faculty to take time to work on research projects that they might otherwise not be able to work on due to their workloads or lack of funding," said Marianne Afifi, associate dean of the library and this year's colloquium moderator.
Engineering and computer science professor Richard Lorentz is looking forward to the colloquium and will be presenting a project that focuses on Monte-Carlo Tree Search algorithms and the advancement of computer programming and artificial intelligence. He said the fellowship was a "gigantic help" in the progression of his research.
"Programming is a mindboggling, time-intensive activity… interruptions are extremely detrimental to the cause," Lorentz said. "Having the fellowship and not having to worry about teaching so much, I was able to sit down and really focus on this project."
The research fellow awards faculty members 12 units of reassigned time away from their normal teaching obligations per academic year. This time is typically taken in one semester and any additional budget support or reassigned time is granted on a case-by-case basis by the dean.
This year's colloquium will showcase a diverse and varied set of research topics and provide an opportunity for faculty, staff and students to see what some of their fellow Matadors have been working on.
Other faculty who will be presenting their research are: Rachel Friedman-Narr (Special Education), whose project is entitled "Examining the Nature of Parent-to-Parent Support to Families of Newly Identified Infants who are Deaf or Hard of Hearing"; Lindsay Hansen (Music and Media, Oviatt Library), whose research will "identify little-known library and archival collections in California that are in some way related to Germany"; Lois M. Shelton (Management), "Beyond Work-Family to Work-Life: A Multi-Domain, Multi-Cultural Examination of the Life Role Management Practices of Entrepreneurs"; Zeynep Toker (Urban Studies and Planning), "A Replicable Protocol for Designing Sustainable Parks in Asphalt Cities"; and Joy von Wolffersdorff (Art), whose "26 Glaciers" project provides an artist's viewpoint on the effect of climate change on glaciers in Glacier National Park and Waterton Lakes National Park.
For more information about the colloquium, visit the website or call (818) 677-2271.