CSUN to Honor Volunteers at Annual Event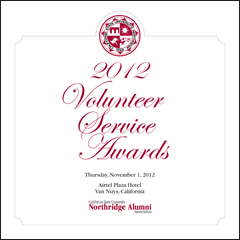 California State University, Northridge will honor its most active alumni, faculty and community friends at the annual Volunteer Service Awards on Thursday, Nov. 1, from 11:30 a.m. to 1 p.m. at the Airtel Plaza, Van Nuys.
Hosted by CSUN President Dianne F. Harrison and the Alumni Association, 20 Cal State Northridge volunteers will be recognized for their service and commitment to enriching the university and surrounding community.
Alumnus Larry Twersky of Tarzana '85 (Marketing) will be awarded the Dorothea "Granny" Heitz Award for Outstanding Volunteer Leadership. Emeritus Family and Consumer Sciences professor Nancy Owens will receive the Dean Ed Peckham Award.
"The Volunteer Service Awards event provides a way to recognize and thank those who selflessly give their time and resources to help fulfill Cal State Northridge's mission," said D.G. "Gray" Mounger, assistant vice president for Alumni Relations.
The Volunteer Service Award recipients are nominated by colleges, university offices and alumni chapters. The honorees are selected based on the demonstration of a high degree of character, integrity, leadership and loyalty. They have provided service to the campus and its affiliates over an extended period of time, supporting CSUN with time and resources.
Other honorees include:
Colleges

Kurt Christiansen of Glendale '85 (Urban Studies), College of Social and Behavioral Sciences
Sue Haber of Northridge '64 (Philosophy), Mike Curb College of Arts, Media and Communication
Theresa Quary of Northridge, Michael D. Eisner College of Education
Roy Salter of Hidden Hills '79 (Finance), College of Business and Economics
Ronora Sayaman of Panorama City '97 (Accounting Theory and Practice), College of the Humanities
George Thomas of Porter Ranch, College of Science and Mathematics
Charles Volk of Woodland Hills, College of Engineering and Computer Science
Jeremiah "J.B." Williams of Beverly Hills, M.P.A. '12, Tseng College
University
Michael Arone of Van Nuys '00 (Kinesiology), Athletics
Iris Caplan of Arleta  '81 (Liberal Studies), Delmar T. Oviatt Library
Dotti Goggin of Chatsworth '75 (Home Economics), Arts Council
Alumni Chapters
Hasmig Baran of Granada Hills '97 (Educational Administration),'99 (Teaching Credential Program), Alumni and Friends of Armenian Studies Program
Susan Barney of Simi Valley '04 (Accountancy), Accounting and Information Systems Alumni Association
Laurie Cartwright of Santa Clarita '70 (Sociology), M.S. '92 (Communicative Disorders), '92 (Teaching Credential Program),Communication Disorders and Sciences Alumni Association
Robert Finkelstein of Northridge, M.S. '78 (Environmental/Occupational Health), Environmental and Occupational Health Alumni Association
Joel Fisher of Los Angeles, M.P.A. '07, Masters in Public Administration Alumni Chapter
Shanté Morgan-Durisseau of Moorpark '90 (Journalism/Afro-American Studies), Black Alumni Association
Joyce Munsch of Chatsworth, Child and Adolescent Development Alumni Association Chapter
Reservations are required and must be made by Oct. 22. For more information, call (818) 677-1300 or email volunteerserviceawards@csun.edu.