CSUN-al Gardening Session to Explore the Art of Growing 'Living Fossils'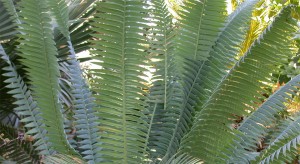 Cycads are often referred to as "living fossils," given the fact they were around when dinosaurs ruled the earth. The plants' female cones bear fleshy-coated seeds, which are thought to have been eaten and then distributed by plant-eating dinosaurs.
Of the 300-plus species still living, many are treasured for their slow growth rate, low maintenance and aristocratic appearance.
Maurice Levin, proprietor of Jurassic Garden Nursery in Chatsworth, will reveal the secrets of gardening with these "living fossils" on Saturday, Nov. 4, from 9 to 11 a.m. at California State University, Northridge as part of the university's CSUN-al Gardening series. His talk will include the care and maintenance of cycads, including the challenges of propagating and growing these endangered species successfully in Southern California.
"Maurice grows a wide variety of cycad species, many of which are endangered and rarely offered for sale," said Brenda Kanno, general manager of CSUN's Botanic Garden. "The class is an opportunity to learn from an expert which species are best suited to this area and how to grow them. Maurice will bring live specimens — popular and rare — to encourage people to grow these living fossils in their gardens."
Registration for the free class is required. Email botanicgarden@csun.edu to request a space in the class or for more information. Driving and parking instructions, as well as the class meeting location, will be sent upon registration.
CSUN's Botanic Garden is operated by the university's Department of Biology and serves as a field site for botany, entomology, photography, painting and other classes. In addition to geographically themed plantings and a butterfly garden, the garden also features greenhouses where noteworthy botanical specimens are grown. The garden is open to the community.
Visit the Botanic Garden website, www.csun.edu/botanicgarden/, for more information.