CSUN Celebrates Black History Month 2013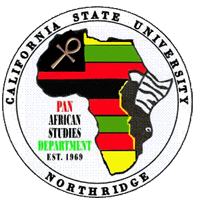 The Department of Pan African Studies, Black Student Union and Black Alumni Association are co-sponsoring California State University, Northridge's annual Black History Month celebration, which commemorates and celebrates the accomplishments and triumphs of the African diaspora through a host of cultural and educational events throughout February.
"This is an opportunity for attendees to gain additional insight into the hard-fought struggles and progress that our ancestors made toward freedom," said Karin Stanford, chair of the Department of Pan African Studies. "Not only have we survived, but we have thrived. Black History Month 2013 will demonstrate and celebrate this."
"Educate to Liberate" is the theme of this year's celebration, which kicks off on Friday, Feb. 1, from 4 to 8 p.m. with the grand re-opening and dedication of the Black House followed by a film screening of "Storm at Valley State."
The monthlong celebration will feature two prominent icons in the black community. On Tuesday, Feb. 5, award-winning actor Danny Glover will speak on "Mass Incarceration and Political Prisoners" in the Grand Salon of the University Student Union from 4 to 6 p.m. On Monday, Feb. 18, in the Thousand Oaks Room from noon to 2 p.m., Maulana Karenga, prominent professor of black studies at California State University, Long Beach and the creator of the cultural holiday Kwanzaa, will give the President's Day lecture.
The Black Alumni Association will host a mixer/scholarship fundraiser on Feb. 22 at CSUN's Orange Grove Bistro from 6:30 to 10 p.m. There will be music and hors d'oeuvres. Tickets are $40 per person.
Other events scheduled for the celebration are:
• Feb. 4 at 7 p.m. in the Reseda Room – Alpha Phi Alpha, "Egypt: The Origin of all Things;"
• Feb. 11 from 6 to 8 p.m. in the Black House – Kappa Alpha Psi, Training for Leadership workshop;
• Feb. 13 from 4 to 5:30 p.m. in the Redwood Hall dance studio – Benjamin Allen, "Old School" Hip Hop Dance Class with a live DJ;
• Feb. 14 from noon to 2 p.m. in Nordhoff Hall Recital Hall – Music alumnus Jayme Alilaw, "Black Love: Songs by African-American Composers";
• Feb. 20 at 7 p.m. – Alpha Phi Alpha, Black History Trivia;
• Feb. 22 from noon to 2 p.m. – Paul Von Blum, "The Civil Rights Movement: Personal Reflections from a Participant"; and
• Feb. 26 from 3:30 to 4:45 p.m. in the Flintridge Room – David Sylvester, "Traveling at the Speed of Life: My Journey across Africa, Asia, and America on a Bicycle."
The closing event of Black History month will take place on Thursday, Feb. 28, and feature Runoko Rashidi, a research specialist on African culture and peoples, who will speak on the "Global African Presence" in the Whitsett Room from 3 to 5 p.m.
"Black History Month is important every year because it is a time for people of all races and backgrounds to celebrate or educate themselves about black culture," said Brande Hookfin, president of the BSU. "If you are looking to meet new people and have a good time, we have that. If you are looking to learn something about history, we have that as well."
Cal State Northridge's Department of Pan African Studies is one of the oldest and largest black studies programs in the nation. The department was officially formed in 1969 as the Afro-American Studies Department. It was organized in the wake of campus protests and the mass arrest of hundreds of students who were angry about the treatment of students of color.
For more information about the Black History Month celebration, contact the Department of Pan African Studies at (818) 677-3311 or email the Black Student Union at bsu.csun@gmail.com. For information about the Black Alumni Association, visit www.csunalumni.com/baa or email csunbaa@gmail.com.