CSUN Coin Drive to Raise Money for Community Wellness Project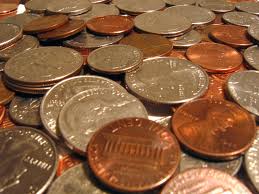 The Big West Conference has thrown down the gauntlet and the student-athletes at California State University, Northridge and their classmates in CSUN's Department of Kinesiology have taken up the challenge.
For the past six years, conference officials have challenged the student-athletes at its 10 member institutions to collect coins to donate to charity. The college that collects the most money also gets to claim 25 percent of what is collected by its sister institutions for its chosen charity.
CSUN's Student Athlete Advisory Committee has chosen 100 Citizens, an innovative, multigenerational wellness project that encourages San Fernando residents to make healthy life choices, as their charity, and they have until Feb. 28 to collect their coins.
"We're going for first place," said Associate Athletic Director Janet Pinneau, noting that CSUN's middle of the pack placement last year didn't sit well with the members of its athletic teams. Last year's winner was Pacific University in Stockton, which collected $3,495.24 in coins, while CSUN brought in $1,129.44.
"We know we can do better than that," Pinneau said.
Kinesiology professor Steven Loy, who developed the 100 Citizens program with San Fernando recreation officials and works with a team of CSUN students who facilitate it, is determined to see CSUN win
He's galvanized his students to help the student-athletes place coin collection buckets in strategic locations across the campus, including key eating facilities, and in San Fernando, and collect money at all Matador athletic events this month.
"I know we can do this," he said, adding that the goal is to collect enough money for creating a TRX training facility, which uses suspension training to work on a number of muscles at the same time, for use by the citizens of San Fernando.
"We'll take anything you are willing to give, whether its pennies or dollar bills," he said. "This is a worthy program that is making a difference in the health of the residents of San Fernando, and we'd love to see it continue to grow and be a further demonstration of what 100 Citizen programs can do."
Pinneau invited everyone, on and off the Northridge campus, to contribute.
"100 Citizens is a good program that is doing good in the community, and we would love to add their efforts," she said. "You can come to a Matador game, or just drop by the campus and we'll accept your coins, no matter how small. Every penny helps."
Those interested in helping the campaign, can drop by the Department of Kinesiology in Redwood Hall on the west side of the campus at 18111 Nordhoff St. in Northridge or attend a Matador game. For a game schedule, visit the website http://www.gomatadors.com/landing/index.