CSUN Event to Focus on the Evolving Outlook for the Earth's Future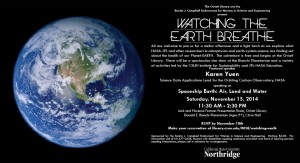 An afternoon of activities, presentations and a star show in California State University, Northridge's Bianchi Planetarium on Saturday, Nov. 15, will throw the spotlight on what researchers in astrophysics and Earth-system sciences are discovering about the health of the planet.
"Watching the Earth Breathe" is sponsored by the Bonita J. Campbell Endowment for Women in Science and Engineering (WISE) in CSUN's Delmar T. Oviatt Library. The event is designed to highlight the work of women researchers and scientists. It is scheduled to begin at 11:30 a.m. with a welcome and light lunch in the Jack and Florence Ferman Presentation Room, located on the garden level of the library. The Oviatt Library is located at the center of the campus at 18111 Nordhoff St. in Northridge.
The free event will include a presentation, "Spaceship Earth: Air, Land and Water," by Karen Yuen, science data applications lead for the orbiting carbon observatory for NASA.
Elementary education professor Susan Belgrad said "Watching the Earth Breathe" was inspired by a joint program CSUN is working on with NASA and the Jet Propulsion Laboratory (JPL) in Pasadena to increase science, technology, engineering and mathematical knowledge in K-8 teacher credential students.
"We spent the better part of a week visiting with NASA scientists and engineers at JPL, and Karen Yuen gave us a wonderful presentation about the Earth's natural respiration cycle — exchanging oxygen and carbon dioxide," Belgrad said. "She inspired us all to pass this knowledge along. It is so important that we all become stewards of this beautiful planet.
"I hope that teachers and parents will bring children and adolescents, who will be the problem solvers of the next decades, to attend this program," she continued. "They will hopefully be inspired. In addition, they will be able to enjoy a planetarium show — that by itself is very cool."
The event is free and open to the public, but reservations are recommended. To reserve a spot, click here. Persons with disabilities needing assistance and deaf and hard-of-hearing persons needing interpreters should call (818) 677-2638 in advance for arrangements. Parking on campus is $6. Daily parking permits may be purchased at the campus information booths or online at The Permit Store.
Established by professor emeritus Bonita Campbell in CSUN's Department of Manufacturing Systems Engineering and Management, the WISE endowment organizes events that celebrate and promote women's achievements in the fields of science and engineering.
The Oviatt Library serves as the main research facility in the San Fernando Valley. For more information about the library and its hours, visit its website or call (818) 677-2283. Information about library events can be found on the exhibitions and events page on the library's website.