Performance to Showcase New Dances by CSUN Choreographers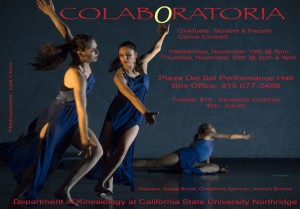 The nature of dance is collaboration ­— between dancers and choreographers, dancers and music, dancers and the audience, and even science and art.
"Colaboratoria: Graduate Student and Faculty Dance Concert," sponsored by California State University, Northridge's Department of Kinesiology, will be an evening of diverse choreographic visions and passionate dancing.
The event is scheduled to take place Wednesday, Nov. 19, at 8 p.m. and Thursday, Nov. 20, at 2 p.m. and 8 p.m. in the Plaza Del Sol Performance Hall, located on the east side of the campus off Zelzah Avenue in the University Student Union.
The choreographers and performers, who are CSUN students, guests and faculty, come with a strong background in dance, including working with professional dance companies or in film and television. The new dance works presented will range from jazz to contemporary and hip hop, including a remount of spring 2014's popular "Symphonic Dances from West Side Story."
Among the highlights will be an abstract interpretation of the struggle with suicide, "Unbidden," which is produced by kinesiology professor and clinical psychologist Paula Thomson. The dance was inspired by observing some of her patients who struggle with suicidal tendencies and the movements they make.
"I work with lots of suicidal patients," Thomson said. "I observe them wanting to grab on and push away life at the same time. It's a simultaneous, contradictory impulse. The dance will show the duality of that. I find there's an incredible beauty in the human spirit even when it is struggling. There is an honesty to it."
Another highly anticipated dance includes collaboration between the CSUN Jazz A Band and two dancers who will perform Duke Ellington's version of "The Nutcracker."
"We have great dancers and choreographers at CSUN, and that's the fundamental reason for the concert — to showcase the talent at the university," said Thomson. "Because they are graduate students and faculty members, these dancers and choreographers have a mature and sophisticated creative vision, and the dancers are exquisite."
Tickets for the event are on sale for $15 for students and seniors, and $20 for general admission. To purchase tickets, call (818) 677-2488.
For more information about the performance, contact Paula Thomson at (818) 677-7575 or paula.thomson@csun.edu.