CSUN Hosts Forum on 2012 Election
California State University, Northridge will serve as the gateway to an important conversation on politics and stratagems as the Department of Political Science presents the "Eugene Price Forum: A Discussion on the 2012 Elections" on Thursday, Oct. 4 from 6:30 to 8 p.m. in Sierra Hall's Whitsett Room.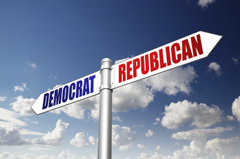 The panelists are two renowned political consultants who have served on national campaigns in recent years. Chris Kofinis was the national director of communications for John Edwards' presidential campaign in 2008. Prior to that, he worked as a senior adviser to Gen. Wesley Clark's 2004 presidential run. Kofinis has gone on to serve in similar communications roles for the Democratic Governors Association and several other Democratic candidates for governor and senator.
Greg Strimple worked as senior adviser for polling and advertising in John McCain's 2008 presidential bid. Since then, he has functioned in comparable campaign positions—most recently in Sen. Mark Kirk's successful campaign in 2010 and in New Jersey Gov. Chris Christie's victory in 2009.
The discussion will be moderated by Department of Political Science chair and Eugene C. Price Professor Lawrence Becker, who said he hopes attendees will leave with a broader knowledge of the upcoming Nov. 6 presidential election and that both panelists are "well-connected" in Republican and Democratic circles.
"The forum is a great opportunity to learn about the 2012 elections, the presidential campaign in particular, and some of the tactics and strategies the Democrats and Republicans are employing," he said.
The forum was established in honor of Eugene C. Price, who chaired CSUN's Department of Political Science for more than a decade. After his death, a large portion of Price's estate was donated to the department, launching the Eugene Price Endowment that aids in supporting department events.
For more information on the Eugene Price Forum, contact the Department of Political Science at (818) 677-3488.