CSUN Musical to Teach Napa Street Elementary Kids About Healthy Life Choices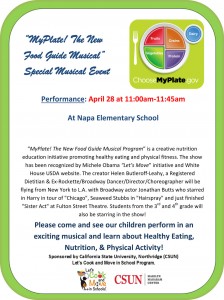 California State University, Northridge students and faculty next week are presenting Napa Street Elementary School students with a musical designed to help them learn about nutrition and healthy life choices
Third and fourth graders at the school will be starring in the "My Plate! The New Food Guide" musical, as part of CSUN's Let's Cook and Move in Schools! program, in conjunction with the Marilyn Magaram Center for Food Science, Nutrition and Dietetics in the Department of Family and Consumer Sciences. The performance is scheduled to take place from 11 to 11:45 a.m. on Thursday, April 28, at Napa Street Elementary school located at 19010 Napa St. in Northridge.
"Our preliminary research results indicate at least a 50 percent increase in nutrition and physical activity knowledge in children participating in the musical," said Annette Besnilian, executive director of the Marilyn Magaram Center. "We are also working on implementing a parent component to the show. It is important to educate the children and their families. Using music, arts and dance are great ways to help children and their families learn about the importance of eating right and being active each day."
Let's Cook and Move in Schools! engages children learning behaviors for health and wellbeing. Besnilian co-directs the program with kinesiology faculty Mary Jo Sariscsany.
"MyPlate! The New Food Guide" musical is a creative nutrition education initiative designed to promote healthy eating and physical fitness for children and to inspire them to share the information with family and friends.
The show has been recognized by the Michele Obama's Let's Move! Nutrition Initiative and the USDA. The creator of the show, Helen Butleroff-Leahy, is a registered dietitian and former Rockette, Broadway dancer, director and choreographer. She is expected to attend the performance along with actor Jonathan Butts, who is a widely known performer in the New York theatre scene having performed in "Chicago," "Hairspray" and "Sister Act."
Butleroff-Leahy has worked with students and faculty in CSUN's nutrition program to produce a musical that would convey the importance of healthy life choices to the elementary school students.