CSUN's Delmar T. Oviatt Library Presents 'Seamanship and Settlement'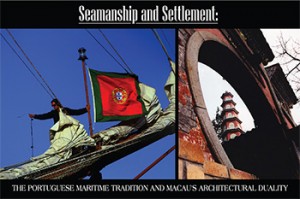 The Delmar T. Oviatt Library at California State University, Northridge presents "Seamanship and Settlement: The Portuguese Maritime Tradition and Macau's Architectural Duality," an exhibition that celebrates some 500 years of Portuguese maritime, skill and daring exploration.
The exhibit, which opened last weekend and runs through May 31, also highlights the mutual cultural influence of China as exemplified by magnificent photographs of the N.R.P. Sagres, which has roamed the world's oceans as the Portuguese Navy's school ship, and of the historic architecture of the port city of Macau, the first enduring point of contact between China and the West.
"The Sagres tall ship is a reminder of the maritime traditions of Portugal, whose seamen embarked upon dangerous voyages into seas that were largely unknown, seeking destinations, which were almost legendary," said Bob Gohstand, a Friends of the Library board member and the exhibit's curator. "The exhibitions broaden the international and historical horizons of the viewers, in that they are reminders of the role of exploration and cultural contact between civilizations in creating the modern world."
For more information on the exhibition, please call (818) 677-2638.
This exhibition is sponsored by the old China Hands Archives; Delmar T. Oviatt Library; California State University Northridge; the International Institute of Macau; the Lusitano Club of California; the Macau Arts Culture and Heritage Institute USA; and friends of the Oviatt Library.