Justice Cuellar to Talk About His Journey to the California Supreme Court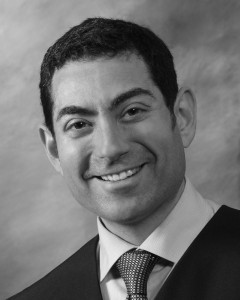 Justice Mariano-Florentino Cuéllar will talk about his journey to the California Supreme Court, as well as some of the issues facing the state's legal system, during a visit with California State University, Northridge students on Thursday, Feb. 16.
Cuéllar, who was appointed by Gov. Jerry Brown to the California State Supreme Court in 2014, is scheduled to talk to students from 12:30 to 1:45 p.m. in the Thousand Oaks Room of the University Student Union, on the east side of the campus located at 18111 Nordhoff St. in Northridge. The justice will forgo giving a formal lecture, and instead spend his time answering questions from the audience.
"This is an amazing opportunity for our students to interact with one of the nation's preeminent legal voices and scholars," said Melisa Galván, and assistant professor of Chicana and Chicano studies and one of the organizers of Cuéllar's visit. "They really shouldn't pass it up."
An American citizen, Cuéllar was born in Matamoros, Mexico, and attended school in Brownsville, Texas. At age 14, he moved with his family to Calexico, Calif., where he attended a public high school. He graduated magna cum laude with a bachelor's degree from Harvard University in 1993, a law degree from Yale Law School in 1997 and a doctorate in political science from Stanford University in 2000. While at law school, Cuéllar co-founded a nonprofit organization that provided opportunities for students to teach English in underserved communities. He spent his summers working at the U.S. Senate and the President's Council of Economic Advisors.
After law school, Cuéllar worked at the U.S. Department of the Treasury and clerked for Chief Judge Mary M. Schroeder of the U.S. Court of Appeals for the Ninth Circuit. He joined the faculty of Stanford Law School in 2001. Between 2004-15, Cuéllar held leadership positions at Stanford's Freeman Spogli Institute for International Studies. As the institute's director, he supervised 12 centers and programs addressing international affairs, governance and development, food security and the environment, and health policy.
In 2008, Cuéllar served on former President Obama's presidential transition team. From 2009-10, he worked at the White Houses as a special assistant to the president for justice and regulatory policy. He was appointed by President Obama in 2010 as member of the governing council for the U.S. Administrative Conference, a position he held for five years. He also co-chaired the U.S. Department of Education's National Equity and Excellence Commission from 2011-13.
He was nominated by Gov. Brown to the state's Supreme Court in July 2014, and elected by voters to a full term the following November. He was considered by President Obama as a potential nominee to the U.S. Supreme Court.
Cuéllar currently chairs the Implementation Task Force on Language Access for the California judiciary and serves on the boards of several nonprofit organizations.
For more information about Cuéllar's visit, contact Galván at mgalvan@csun.edu.