KCSN Launches New Show to Help Diversify Entertainment Industry Pipeline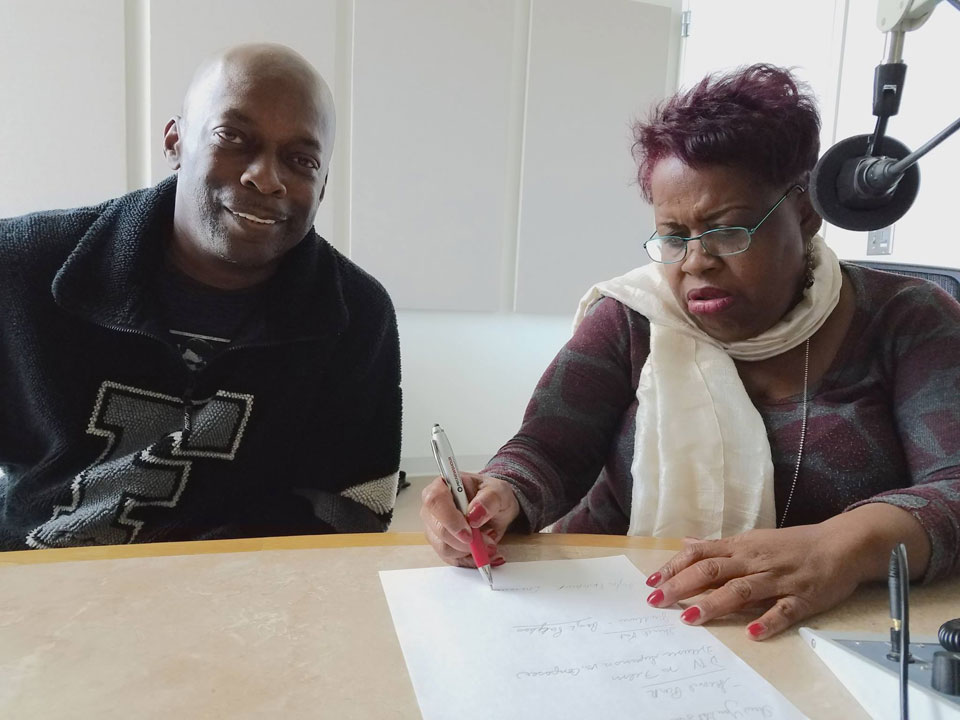 Eunetta T. Boone (r) with Hollywood composer Kurt Farquhar prepping for the premier of "The Hustle" on KCSN. Photo courtesy of Benjamin Davis.
KCSN 88.5 FM/Los Angeles has launched a new radio program aimed at helping to fill the diversity pipeline into the entertainment industry.
"The Hustle," which debuted Sunday, Feb. 5, is hosted by veteran television producer and writer Eunetta T. Boone. Boone queries her guests — successful entertainment industry professionals — about their careers and solicits tips for her listeners about how to break into the business and succeed.
Helping Boone each show will be a different CSUN student intern, who will have the opportunity to be mentored by that day's guest.
"Getting guests to share their knowledge turned out to be easier than I thought," said CSUN journalism professor Benjamin A. Davis, a radio industry veteran who created the show. "It seems like now, everyone is doing their part to improve diversity in Hollywood. Sharing successful tips is one way, and that's what 'The Hustle' is all about."
Davis said that when he was looking for a host for the show, he knew he needed someone who understood the entertainment industry—and who could draw out nuanced nuggets that would help listeners in their quest for success.
"I have worked with some of the greatest voices in public radio, and for this show, I sought a unique voice and style mixed with natural humor," Davis said. "That's Eunetta."
Boone has served as a writer and/or producer for a number of successful TV shows, including "Fresh Prince of Bel Air," "Roc," "Living Single," "The Parent 'Hood," "The Hughleys," "My Wife and Kids," "Cuts" and "One on One."
The first show aired at 5 p.m. on Feb. 5 on KCSN's HD2 channel, and featured composer Kurt Farquhar, who did the music for "King of Queens" and "Being Mary Jane," among many other films and TV shows. During the debut show, Farquhar mentored CSUN music student Tyler Estabrook, who is studying composition. Estabrook composed the music for "The Hustle."
"The Hustle" is produced by CSUN's Department of Journalism as part of its ongoing public service initiatives.