Engineering and Computer Science to Host Spring Tech Fest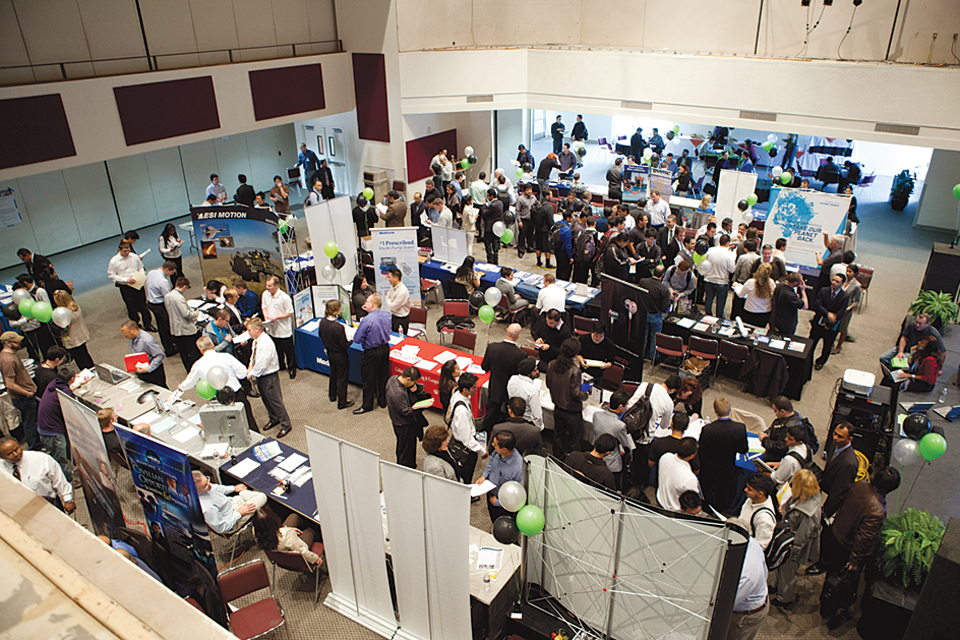 Several companies and recruiters attended the College of Engineering and Computer Science's Tech Fest last year. The college together with the CSUN Career Center will host the biannual event this year on Feb. 19. Photo by Armando Tellez.
California State University, Northridge students and alumni—especially those in the science, technology, engineering and mathematics (STEM) field—are invited to attend the Spring Tech Fest.
The College of Engineering and Computer Science, together with the CSUN Career Center, are hosting this biannual event on Tuesday, Feb. 19, from 10 a.m. to 3 p.m. at the University Student Union's Northridge Center.
The event is held in honor of National Engineers Week. It gives students and alumni an opportunity to meet and hear from companies and professionals in the field. More than 15 companies are expected to take part in the Spring Tech Fest, including AeroVironment, Boston Scientific and Teradyne, Inc.
"A number of alumni have gotten jobs through our past tech fests, and some of our students have gained internships by taking part in our great event," said Sarah Le Long, employment services and event coordinator at the CSUN Career Center.
In addition, the event will include speakers and workshops.
"We urge students to research the different companies in attendance ahead of time to find out what open positions they're looking for in addition to highlighting their interest in the company," Le Long said.
Since the first Tech Fest was held in spring 2008, Le Long said the STEM industry has grown. She said the College of Engineering and Computer Science has helped to increase student and alumni interest in the event.
National Engineers Week celebrates the contributions of engineers to society. The week is a part of many corporate and government cultures and is celebrated on every U.S. engineering college campus.
To attend register online.